Rival SuperPAC Challenges 'Frenchy' Stephen Colbert To A Tractor Pull Competition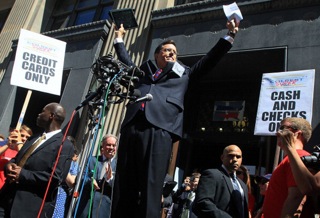 The most entertaining subplot of the 2012 race so far just got a tad bit goofier. Jobs for Iowa, a SuperPAC supporting Texas governor Rick Perry, seems to have not taken so well to being mocked by rival group "Americans For A Better Tomorrow, Tomorrow." In a hilarious press release dropped last night, Jobs for Iowa challenged that SuperPAC's president, Stephen Colbert, to an "old-fashioned tractor pull" at the Ames Straw Poll for SuperPAC Supremacy.
The press release reads almost as if Colbert and his team themselves put it together, disparaging Colbert as "Frenchy" and bursting with comically old-timey dueling language like "throws down the gauntlet" and "proverbial white gloved-slap to your face." Colbert fired the first shot in the battle by mentioning Jobs for Iowa in his first ad asking viewers to support "Rick Parry."
Explaining that Jobs for Iowa is supporting Perry ("spelled with an 'e'… as in 'employment'), the group challenges Colbert to "put up or shut up, the Iowa way" by coming to the Ames Straw Pull and competing in a "tractor pull." Needless to say, should Colbert accept, this may be even more entertaining than the Tim Pawlenty/Herman Cain/Mike Huckabee jam session scheduled for today.
As the press release came out last night, Colbert has yet to respond to the challenge, though the braggadocio seems quite well-tuned to pique his interest. The full press release (via Politico below):
"JOBS FOR IOWA" THROWS DOWN THE GAUNTLET TO NEWSY-ISH TV PERSONALITY WITH FRENCH-SOUNDING NAME.

TX—Last week our favorite Fox News-loving Iowans woke up to Jobs for Iowa's compelling television ad highlighting Texas Governor Rick Perry's proven record of creating jobs (and by the way, that is Perry spelled with an "e"… as in "employment").

The ad also caught the attention of our favorite talking torso, Stephen Colbert. Mr. Colbert, obviously upset with Jobs for Iowa since he had already "endorsed Perry weeks ago" and "called shotgun," delivered the message heard round the State of Iowa: "Back off b!tche$. I saw him first."

Well, Frenchy, we accept your challenge. Because like The Highlander, there can only be one. Forget the airwaves. It's time to settle this like the Iowans none of us are in the ultimate competition for super PAC dominance.

An old-fashioned tractor pull … to be held August 13 at the Ames Fairgrounds. Mr. Colbert, consider this the proverbial white-gloved slap to your face.

Jobs for Iowa vs. Making a Better Tomorrow, Tomorrow. Super PAC vs. Super PAC. Rick Perry vs. Rick Parry. Tractor vs. Tractor. In an epic battle for the most revered title of all: The Super-Duper PAC.

Mr. Colbert, the only thing in Iowa that can stake claim to a silent letter is Des Moines, so you need to take your "t" back to France. It's time to put up or shut up … the Iowa way.
Have a tip we should know? tips@mediaite.com