RNC Celebrates Trump Speech With Giant Tweet From White Supremacist on Jumbotron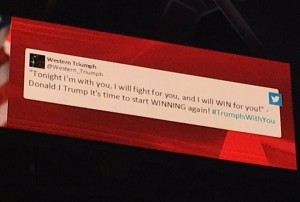 Speaker of the House Paul Ryan doesn't call it "textbook racism" for nothing. During Republican presidential nominee Donald Trump's official acceptance speech at the Republican National Convention Thursday night, the RNC marked the occasion in the most Donald Trump way possible: by flashing a tweet from a white supremacist Twitter account on the Quicken Loans Arena's giant video monitors. From Time's Sam Frizell:
The Republican National Convention displayed a tweet by a white-supremacist account during Donald Trump's nomination acceptance speech on Thursday night.

The tweet, written by the account @Western_Triumph, appeared on four large screens in the Quicken Loans Arena Republican after the halfway mark during Donald Trump's acceptance speech on Thursday night. It was one of a series of tweets by Twitter users that appeared in the hall that were curated by the Republican National Convention.

The tweet cited a line from Trump's speech accepting the Republican nomination.
Minnesota State Senate candidate Andy Apilowski caught a photo of the giant tweet:
This is running on the tweet screen loop here at #RNCinCLE check out the account. pic.twitter.com/9kgpzBLrlK

— Andy Aplikowski (@AAARF) July 22, 2016
In case you were wondering, here are a few of @Western_Triumph's other tweets, for bad measure:
Hillary says whites should "recognize our privilege".

I say whites should recognize (((the traitors))), and begin the Great Purge!

— Western Triumph (@Western_Triumph) July 18, 2016
Detroit
Birmingham
Baltimore
etc
Proof is clear: Whites build things, and blacks destroy them.
Hence…..Africa. https://t.co/7y0CqIrkbo

— Western Triumph (@Western_Triumph) July 10, 2016
Have a tip we should know? tips@mediaite.com