RNC Doesn't Back Female NJ Governor Candidate…Who Criticized Trump's Comments on Women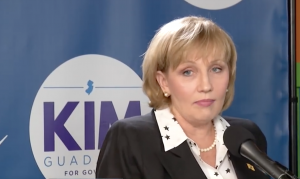 According to a report from NJ.com, the Republican National Committee isn't too committed to New Jersey's gubernatorial race for a reason that will surprise no one — the Republican candidate, Kim Guadagno, has reportedly been perceived as disloyal to President Trump.
Specifically, Guadagno has criticized Trump for the president's sexist comments, particularly with regard to Trump's subpar apology for his crude comments on the famous "Access Hollywood" tape, in which Trump seemed to be boasting about sexual assault.
Guadagno, New Jersey Gov. Chris Christie's lieutenant governor, responded by stating this in a tweet: "No apology can excuse away Mr. Trump's reprehensible comments degrading women. We're raising my 3 boys to be better than that."
"[The president] is unhappy with anyone who neglected him in his hour of need," an RNC insider reportedly told NJ.com, referring to the "Access Hollywood" scandal.
Former New Jersey Gov. Christie Whitman, also a Republican, said the RNC was "reluctant to back the campaign in the way one would have expected," saying the implication was "you were not a Trump supporter in the primary, and so don't expect much money."
It seems that as former FBI Director James Comey could attest, loyalty is very, very important to the president.
Guadagno, whose poll numbers have been abysmal, additionally can't expect much support from fundraisers who supported Christie, who have reportedly said won't be involved in the race as Guadagno was been deemed disloyal to Christie after criticizing his controversial visit to the beach while it was closed off to the public.
"If I were governor, I sure wouldn't be sitting on the beach if taxpayers didn't have access to state beaches. It's beyond words," Guadagno said in a Facebook post.
You'd think a major political party would be able to appreciate individuals like Guadagno who are able to speak truth to power, but perhaps if that were the case, Trump wouldn't be president at all. The RNC's devotion to satiating Trump's pettiness could cost them a gubernatorial race, and it seems for Democrats, 2018 can't come quickly enough.
Have a tip we should know? tips@mediaite.com