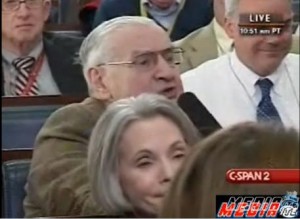 At today's briefing, colorful World Net Daily reporter and right-wing radio host Lester Kinsolving asked Press Secretary Robert Gibbs about a NY Post op-ed that suggests that the decline of Boy Scouting in the area is due to the City "abandoning" scouting after the 2000 Supreme Court decision upholding their ban on gays.
Lester draws a parallel between the BSA policy and Don't Ask Don't Tell, but Gibbs sidesteps the question by revealing that his son is a scout, and that he hopes to win the Pinewood Derby.
Transcript:
Q As the honorary President of the Boy Scouts of America, what is the President's reaction to the New York Post report that because the Scouts have a policy similar to our armed forces, "New York institutions are barring scouts from meeting or recruiting in all public schools"?

MR. GIBBS: I have not seen the New York Post report and can have somebody —

Q Well, does he think that it's fair for them to cut the Scouts out of this? How does he support — does he disagree with the Scouts or what? (Laughter.)

MR. GIBBS: Where are you on this, Lester? Are you — is this —

Q Nowhere. (Laughter.)

MR. GIBBS: Yes, I do know where.

Q I support the Scouts. Do you support the Scouts?

MR. GIBBS: My son is — we're constructing the pinewood derby car as we speak. (Laughter.)

Q He's a Scout, your son is a Scout?

MR. GIBBS: He is, and I think he's going to be disappointed if his car doesn't do well, but his father tends to be constructionally challenged.
Wow, 3 instances of laughter. I told you so.
I won't presume to tell others how to raise their kids, but my older sons chose to leave the scouts on their own when they became aware of the policy, and don't support them in other ways, like buying their popcorn. I think that's the part that the NY Post piece misses. Scouting isn't failing because the City won't give their discriminatory policy an official imprimatur, but because their discriminatory policy just seems wrong to a lot of people. If the price they pay is a life free from tent-building, so be it.
The Girl Scouts, on the other hand, don't discriminate, and their cookies are delicious.
Have a tip we should know? tips@mediaite.com