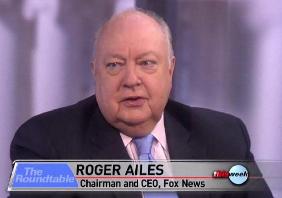 It was a news-making This Week on ABC today, as Barbara Walters took the helm for not just Scott Brown's first big sit-down but an epic roundtable from around the political spectrum.
The two stand-out guests – CEO and President of Fox News Roger Ailes making his first appearance ever on This Week and Huffington Post founder Arianna Huffington.
The group was rounded out by Paul Krugman and George Will, but it was Ailes who was the star. "This is rather unusual for us and I think for him," said Sawyer in her introduction. "I was waiting for HD," joked Ailes.
The roundtable started by weighing in on Brown's interview. "I think President Obama misinterpreted his election," said Ailes. "I think people could misinterpret this election, conservatives getting too excited about this guy being with them and find out he's really a moderate. People tend to misinterpret elections."
Ailes also talked about the White House vs. Fox News feud: "We're fine. I mean, it was not as bad as it was played, and things are not as good as they should be, but we have a good dialogue. And I saw the President and his wife at the media Christmas party. They were very gracious, very nice, both of them. And we have a dialogue every day with them."
But the fireworks came when Huffington squared off directly with Ailes. "Aren't you concerned about the language that Glenn Beck is using, which is, after all, inciting the American people?" she asked him. "He did say one unfortunate thing, which he apologized for, but that happens in live television. So I don't think it's…I think if we start going around as the word police in this business, it will be…"
Then Huffington jumped in:
It's not about the word police. It's about something deeper. It's about the fact that there is a tradition as the historian Richard Hofstadter said, in American politics, of the paranoid style. And the paranoid style is dangerous when there is real pain out there.
Ailes responded by citing HuffPo commenters. "I agree with you," he said. "I read something on your blog that said I looked like J. Edgar Hoover, I had a face like a fist, and I was essentially a malignant tumor…Then it really went nasty, and I thought, gee, maybe Arianna ought to cut this out."
"Well, that was never by anybody that we employed though," responded Huffington, but then the exchange was ended by Walters.
It's certainly a valid point by both sides, but Huffington is right that the comparison is apples and oranges. Anchors getting paid millions of dollars are not comparable to commenters on a website an unpaid blogger.
Update: It was not a comment, but a column by Bill Mann that Ailes was referring to. So Huffington correctly said it was not someone "employed" by the site, since it was an unpaid columnist. But it was not a commenter.
Huffington turned interviewer again just as the roundtable was ending, asking Ailes why FNC cut out of Friday's Q&A between Pres. Obama and the House GOP. "Can you explain to me why FOX went away from the meeting the President was having, why did you go away 20 minutes before the end?" she asked.
"Because we're the most trusted name in news," said Ailes. And that was it.
Here's some video of the roundtable, Ailes advice for Pres. Obama, and below, the Huffington/Ailes discussion about language:


—–
» Follow Steve Krakauer on Twitter
Have a tip we should know? tips@mediaite.com