Roland Martin Grills Bill Clinton #BlackLivesMatter Protesters: What Do You Want the Clintons to Do?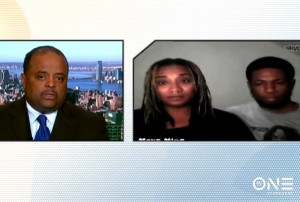 As former President Bill Clinton addresses the fallout from his exchange with #BlackLivesMatter protesters in Philadelphia on Thursday, News One Now host Roland Martin welcomed those protesters, Rufus Farmer and Erica Mines, to find out more about why they protested the former president. President Clinton took heavy criticism for things like telling the protester to "hush up" and for defending a remark that Hillary Clinton has already apologized for by accusing the pair of defending gang leaders, but has since expressed regret over his part in the exchange.
On the substance, though, Clinton spent a lot of time defending the 1990s policies the duo were protesting, and on Friday morning, Roland tried to drill down on the specifics of their grievances.
He began by asking why they weren't protesting others who supported the law, such as Vice President Joe Biden, who authored and pushed the 1994 crime bill. "Vice President Biden does deserve criticism for it," Farmer replied, "Vice President Biden was not the one in Philadelphia yesterday."
Erica Mines also added that they have issues with others, including Senator Bernie Sanders and members of the Congressional Black Caucus at the time, who supported the bill.
In one particularly sharp exchange, Martin asked "What is it that you want Secretary Clinton to do?", which would become a recurring theme in the nearly eleven-minute interview.
"First of all, we would like for Hillary Clinton to stop profiting off of people's pain, specifically black women who have lost their loved ones to unarmed killings of black men and women," Mines replied.
"Erica, how is she profiting off of black people's pain?" Roland interrupted.
"Well, to be honest, you cannot be against police assaults, assassinations, the unjust killings of black people, and then also be for the death penalty," Mines answered. "That is a contradiction because we already know that because of the 1994 crime bill that actually put a lot of officers in our communities is the reason why we have a lot of unjust murders happening throughout the country."
Roland continued to press the activists for specific issues that they wanted to see Hillary Clinton address, but aside from asking for Hillary to admit to the damage that was done by the 1994 crime bill, which they have already done, their only concrete policy ask was for Hillary to "petition against prison expansion," and to "implement programs" aimed at issues around prison. When Martin played them a clip of Bill Clinton apologizing for the effect of his crime bill, Farmer said it was not enough. "They need to do more."
Watch the full interview above, from News One Now.
This is an opinion piece. The views expressed in this article are those of just the author.