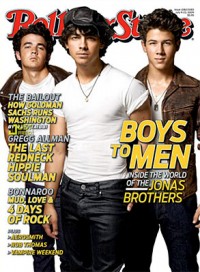 In the pantheon of magazine publishing, Jann Wenner is widely considered to be a legend; a visionary who didn't just create a new magazine, Rolling Stone, but also launched brand new category — the music magazine.
But when the Internet became a viable communications platform in the late 90s, Wenner was eager to play it safe, licensing his brand to a partner, Real Networks, that was more experienced with the online world.
Well now that partnership is officially over, as Rolling Stone has announced plans to take control of their own online destiny.
MediaWeek reports:
Rollingstone.com has lagged in terms of traffic and reader engagement.

Jann Wenner hasn't exactly been a maverick when it comes to the Web. For 10 years, he let an outside company run flagship Rolling Stone's site, and only fully launched a digital counterpart for Us Weekly in 2007.

But now that Usmagazine.com is gaining some traction, he's changing his tune. In January, Wenner Media will finally take control of Rollingstone.com. But can the magazine catch up online in a crowded music and entertainment field?

Steven Schwartz, chief digital officer for Wenner Media, said that when the Web was new territory, the rationale of having RealNetworks operate and sell the site was to avoid making a lot of costly mistakes.

But success with Usmagazine.com led Wenner Media to reconsider running
Rollingstone.com when its licensing deal with RealNetworks expires.

"I think there was the concept of, let's partner with a company that had experience in this space early on," said Schwartz, who plans to relaunch the site in January with new community and customization features. "A lot of companies spent a lot of money in trial and error mode." That said, he conceded, "It hasn't evolved nearly as much as we'd like it to."
In December of 2008, Steve Schwartz came over to Wenner Media from Reader's Digest, where he had been the General Manager of RD.com. According to Quantcast, rd.com currently gets roughly 750k unique visitors a month.
As we've reported, the advent of robust music websites seems to have been a death knell for music magazines in general. While Rolling Stone magazine still seems a somewhat viable business model, one wonders for how long it can continue to exist in its current iteration.
Have a tip we should know? tips@mediaite.com