Romney Strongly Criticizes Friendly Super PAC For Planning To Link Obama To Rev. Wright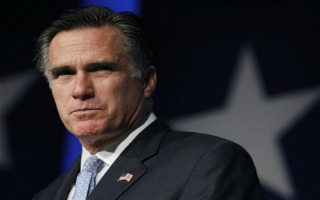 Republican presidential candidate Mitt Romney has come out publically and called for a friendly PAC planning to run an ad against Obama linking him to his controversial pastor Rev. Jeremiah Wright to abandon that ad. Romney reportedly said that he worries his campaign will be portrayed as an "attack campaign" running against President Barack Obama as an individual rather than against his record as President.

RELATED: NY Times Buries The Lede: Anderson Cooper's Ratings Surge At 8PM
TownHall.com's Guy Benson writes that "Romney rebuked a conservative group that is reportedly planning to assail President Obama over his 20-year relationship with controversial Chicago pastor Rev. Jeremiah Wright."
"I repudiate the effort by that PAC to promote an ad strategy of the nature they've described. I would like to see this campaign focus on the economy, on getting people back to work, on seeing rising incomes and growing prosperity — particularly for those in the middle class of America. And I think what we've seen so far from the Obama campaign is a campaign of character assassination. I hope that isn't the course of this campaign. So in regards to that PAC, I repudiate what they're thinking about … It's interesting that we're talking about some Republican PAC that wants to go after the president [on Wright]; I hope people also are looking at what he's doing, and saying 'why is he running an attack campaign? Why isn't he talking about his record?'"
During the primary season, Romney went out of his way to suggest that he could not rein in friendly PACs who attacked his Republican opponents. The law, Romney said, prohibited collusion between a candidate's campaign and those PACs that ran ads on his behalf.
Romney has abandoned that tactic it seems, and has taken a page from Sen. John McCain's (R-AZ) 2008 playbook with his unequivocal admonition for supportive PACs that seek to run ads linking Obama to his former Chicago pastor.
"The American people will make that decision and he'll have that discussion with them," McCain told Fox & Friends in 2008. "I've said that I don't think [Obama] shares Rev. Wright's views."
The Romney campaign has thus far displayed a willingness to be much harder on President Obama than the Republican party's previous presidential nominee. However, it seems that Romney has determined that Rev. Wright remains a taboo topic for Republicans running for national office.
h/t TownHall.com
Have a tip we should know? tips@mediaite.com