NBC News Confirms Romney Picks Paul Ryan As Veep Hours Before Campaign Announces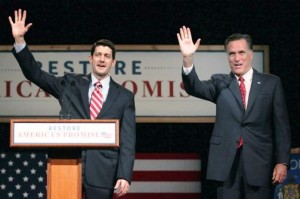 Fox News' Carl Cameron was first on the air at 11:03pm saying Romney would make the VP announcement at 9am (with hints that it would be Ryan). NBC, CNN and Huffington Post are now reporting that Mitt Romney will choose Representative Paul Ryan from Wisconsin as his running mate. Within minutes of The Romney campaign confirming that it would be officially announcing his pick for Vice President at 9:00 am tomorrow, word leaked that Ryan, a leading conservative voice in Congress, would be the choice. In recent days, numerous media entities have reported that Romney was feeling heat to consider from a stable of more conservative choices including Ryan and Florida senator Marco Rubio as opposed to a more moderate choice like Ohio Senator Rob Portman.
A choice of Ryan would invigorate both conservatives, many who have seemed luke warm about Romney, and liberals who would see this is an opportunity to clearly distinguish Obama from the far more conservative Ryan. Ryan, aged 42, authored the so-called Ryan Plan budget that calls for significant tax cuts and entitlement reform that many on the right favor and most on the left loathe. The Weekly Standard had previously reported this evening that "the Romney campaign has begun to prepare a vigorous effort in support of Paul Ryan if he is selected as Mitt Romney's vice presidential pick—something now likely to happen soon."
If this reporting all turns out to be accurate, then the race is about to get a lot more interesting with clearly defined policy initiatives distinguishing the candidates in a way that has been lacking thus far.
Watch the report from CNN below:
Update: NBC News' Chuck Todd was first to report that Ryan is definitely Romney's pick, shortly after midnight. The Mitt's VP iPhone app made the announcement official at 7:07 am, and several minutes later, the Romney campaign released this statement:(Romney and Ryan will make a public announcement at 9 am Saturday morning)
Boston, MA – Mitt Romney today announced Wisconsin Representative Paul Ryan as his Vice Presidential running mate. Below is Congressman Ryan's biography:

U.S. Rep. Paul Ryan is in his seventh term in Congress representing Wisconsin's First Congressional District. He is Chairman of the House Budget Committee, where he has worked tirelessly leading the effort to reign in federal spending and increase accountability to taxpayers. He also serves on the House Ways and Means Committee, where he has focused on simplifying the tax code and making health care more affordable and accessible.

In January 2010, Ryan gained attention nationwide after unveiling his "Roadmap for America's Future," a proposal to eliminate the federal deficit, reform the tax code, and preserve entitlements for future generations.

Representative Ryan was born in Janesville, Wisconsin on January 29, 1970. A fifth-generation Wisconsin native, Ryan was the youngest of four children born to Paul Ryan Sr., who worked as an attorney, and Betty, a stay-at-home mom.

In April 2000, Ryan proposed to Janna Little, a native Oklahoman, at one of his favorite fishing spots, Big St. Germain Lake in Wisconsin. Later that year, the two were married in Oklahoma City.

The Ryans reside in Janesville with their three children, Liza, Charlie and Sam. The family are parishioners at St. John Vianney Catholic Church.

Upon entering Congress in January of 1999, Ryan was the youngest member of the freshmen class at the age of 28. Prior to running for Congress, Ryan served as an aide to Republican Senators Robert Kasten Jr. and Sam Brownback, former U.S. Rep. and Vice Presidential Candidate Jack Kemp, and as a speechwriter for Education Secretary William Bennett.

Ryan is a graduate of Joseph A. Craig High School in Janesville and earned degrees in economics and political science from Miami University in Ohio. He is an avid outdoorsman and is a member is of his local archery association, the Janesville Bowmen.
(Additional reporting by Tommy Christopher)
Have a tip we should know? tips@mediaite.com