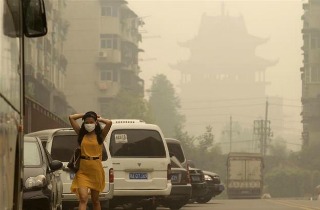 While there are a few holdouts that continue to doubt that the planet's climate is changing, the general consensus remains that earth's dynamic environment — an ever-changing organism — is evolving at a rapid pace. There is more robust debate over whether that shift is due entirely or in part to human activity, as decades of catastrophic predictions of environmental doom all failed to materialize. But the majority of informed opinion still contends that mankind has accelerated shifts in the climate.
Since 1990, Congress has mandated that a quadrennial review of the nation's environment be produced for the edification of the public and lawmakers alike. On Tuesday, the latest review was published and it features all the apocalyptic environmental warnings to which Americans have become inured; catastrophic droughts, receding sea ice, coastal cities like Miami under water.
This report, however, focuses on the negative impact climate change is having on the nation's economy. Ahead of a midterm election in which Democrats will face toppling headwinds, and in light of the anemic economic recovery, which most Americans do not perceive, this climate report has a new aim unique from those of its predecessors. It seeks to galvanize the public around the notion that lost economic activity resulting from climate change is an acute crisis which calls for sweeping executive action.
"The report says it isn't too late to implement policies to reduce the carbon emissions that cause greenhouse gases, and calls on governments at all levels to find ways to lower emissions, particularly from energy production," the Wall Street Journal reports.
To that end, President Barack Obama has engaged in a campaign-like blitz and will sit down with broadcast meteorologists across the country to press foreign governments to address climate change… Don't overthink it.
The last quadrennial environmental review was published in 2009, but it was not met with such urgency from the White House. This might have been because the newly elected president assumed he could translate the warm welcome he received from the globe's leaders into action at the Copenhagen summit convened to craft a successor to the Kyoto Treaty. Obama and his allies failed in that effort. He could not craft an arrangement that would convince global governments to forego their national interest in economic growth in favor of intangible climate goals.
The conference did, however, commit to a direct transfer of $30 billion from wealthy to developing countries, with another $100 billion to be transferred by 2020, in order to cope with the impact of climate change.
In 2009, the United States was undoubtedly the world's largest producer of CO2 emissions, but that has changed in the intervening years. Today, China produces 25 percent of the world's carbon emissions with the Untied States trailing at 17 percent. India, Russia, and Japan follow with 6.6 percent, 5.1 percent, and 3.7 percent respectively, according to the United Nations' Intergovernmental Panel on Climate Change's 2014 report.
However, the IPCC reminds decadent Western consumers, wealthy nations are still the primary offender. China is, in a sense, hostage to the demands of capitalism and is producing these emissions at the barrel of an economic gun.
For example, the IPCC notes, a ton of steel might be produced in China, but if it is destined for shipment to the United States, then those are not truly China's emissions. It is demand in the wealthy world which produces emissions in the developing world. Taking this into account, the UN board determine that the U.S. is responsible for 18.1 percent of global CO2 emissions to China's 21.9 percent.
Far from American economic activity being hampered by global CO2 emissions, the global community contends that it is American economic activity in the form of consumption that is responsible for them.
The Guardian was incensed by wealthy nations' "outsourcing" their demand for consumer goods to developing countries willing to produce them for less cost (a cost of production largely imposed by labor and regulatory expenses). They called for a 70 percent immediate reduction in CO2 emissions, presumably by forcing all economic activity to cease.
This draconian solution apparently sounds about right to the White House. John Podesta, close Obama advisor and noted climate change evangelist, confirmed in an appearance on MSNBC on Tuesday that the Environmental Protection Agency will be rolling out new regulations aimed at curbing coal fire emissions.
"This is actionable science," Podesta said of his White House's latest climate report. Apparently, he's not so keen on "actionable economics." All that coal mined in the United States does not lay fallow. It is shipped to markets that need this inelastic good in order to maintain or improve their standard of living.
In 2003, the 26-nation European Union imported just 13.6 million tons of U.S. coal per year. Today, those countries import nearly 50 tons. "Much of it is high-sulfur coal from under the plains of Illinois and Indiana—exactly the kind of high-emission, power-plant fuel receiving closer scrutiny from U.S. regulators and courts," the Journal reports. Another 25 percent of American coal exports in 2012 were sent to Asia – an increase of 23 percent since 2007.
A global problem like climate change demands a global solution. The international challenge posed by climate change requires an international statesman to craft and implement a diplomatic solution. The state of global affairs, with crises proliferating at an alarming rate and all of them more grave and immediate than future climate threats, clarifies why that global solution is not in the offing.
But none of this will matter today, as the nation's anchors and commentators fret and wring-hands over the immediacy of climate change and the first world's culpability in that crisis. This manner of self-flagellation energizes the president's core supporters. And isn't that the most important thing? After all, there is an election coming up.
[Image via Darley Shen / Reuters]
— —
>> Follow Noah Rothman (@NoahCRothman) on Twitter
Have a tip we should know? tips@mediaite.com