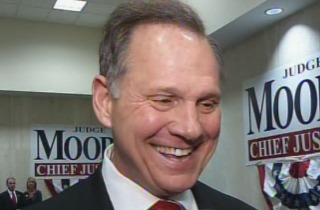 Alabama Chief Justice Roy Moore is no stranger to controversy, having previously tried defying the orders of federal courts while urging other state governments to do the same. On Tuesday, Moore gave an interview for CNS News, where he had some explosive words on the Supreme Court's decision to hear the same-sex marriage case, Obergefell V. Hodges. "They're toying with something that's like dynamite and will destroy our country," he said.
Moore said a favorable ruling would mean homosexuality's "force acceptance" amongst Americans by requiring people to provide goods and services for wedding ceremonies. "What the Supreme Court is about to do, if they do it, is not redefine marriage but destroy the institution of marriage," Moore said. Moore continued to say that he does not think that all LGBT advocates are hell-bent on seeing the country destroyed, but insisted that "there's a push for it."
This is not the first time that Moore held a harsh stance against same-sex marriage. In February, Moore claimed on Fox News Sunday that federal courts have no power over state marriage laws, and that Alabama probate judges, don't have to follow a federal pro–marriage equality decisions because they were not named in the lawsuit.
"State courts are bound by the ruling of the Supreme Court, but when a strict interpretation of the Constitution…is abandoned in the theoretical opinion of individuals are allowed to control its meaning, we have no longer a Constitution."
Moore first gained national attention in 2003, when he was ousted from the bench after setting up a monument of the 10 Commandments outside the State Supreme Court, and then resisting federal orders for its removal. His position was restored in 2012.
You can listen to the interview here: via CSN News.
[h/t Right Wing Watch]
[Image via screengrab]
— —
>> Follow Ken Meyer (@KenMeyer91) on Twitter
Have a tip we should know? tips@mediaite.com