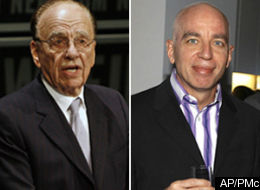 Sometimes it's hard not to wonder if Rupert Murdoch didn't exist whether Vanity Fair's (and Newser's) Michael Wolff would have invented him, so much joy does Wolff seem to get from writing about him.
This month's Vanity Fair column is about how much Rupe hates the Internet, and by extension we are to presume, Wolff himself, who as the founder of Newser casts himself in the role of everything Rupe is apparently hoping to defeat with his paid content mission. Says Wolff:
Two years ago, I helped found Newser, a news aggregator that summarizes the stories of other news providers, which, along with the Huffington Post, the Daily Beast, and Google News, has become a focus of the print world's antipathy.
That, mind you, is a rather grandiose definition of Newser: I'm fairly sure the site ranks rather low on the New York Times list of Internet threats, however according to Wolff Rupe wouldn't know the difference anyway!
Murdoch can almost single-handedly take apart and re-assemble a complex printing press, but his digital-technology acumen and interest is practically zero. Murdoch's abiding love of newspapers has turned into a personal antipathy to the Internet: for him it's a place for porn, thievery, and hackers. In 2005, not long after News Corp. bought MySpace, when it still seemed like a brilliant purchase—before its fortunes sank under News Corp.'s inability to keep pace with advances in social-network technology—I congratulated him on the acquisition. "Now," he said, "we're in the stalking business."
Porn, stalkers, thievery and hackers! Actually, if Rupe decided to truly capitalize on any of those assumptions he would probably own the Internet in under a year. Alas, he seems determined to make us pay, literally in cash, and himself pay in relevance. Or at least, as Wolff suggests, make it to retirement before the entire print model entirely collapses around him.
Have a tip we should know? tips@mediaite.com