Rush Limbaugh Leaving Philadelphia AM Station, To Be Replaced By Michael Smerconish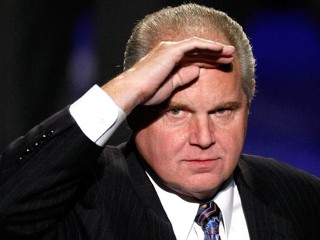 Rush Limbaugh's syndication in Philadelphia is getting a bit reorganized. The New York Times reports today that Premiere Radio Networks, which syndicates Limbaugh nationally, is taking him off of AM station WPHT. It is not know yet when the change will happen, but the station announced plans to replace Limbaugh with Philadelphia talk radio host Michael Smerconish, and the Times has a guess as to where Limbaugh will end up.
RELATED: Rush Limbaugh: If There Is A War On Women, Obama Is The Generalissimo
The Times notes that it does not appear that this move has any relation to recent boycotts and backlash on Limbaugh over comments about birth control activists or some offensive commentary therein. It also sounds like the decision came from Premiere, and not the station syndicating Limbaugh; he is not getting dropped. While Premiere did not comment to the Times, WPHT did:
The owner of WPHT, CBS Radio, said in a statement on Monday afternoon, "Premiere recently notified WPHT they will be syndicating Rush Limbaugh on a new station in Philadelphia. As a result, we are pleased to be able to now showcase Michael, who is a well-known and acclaimed broadcaster in the market, in this new time period."
It does not appear that Limbaugh's voice will be leaving the Philadelphia area for long, however– reports have surfaced that there may be negotiations between Premiere and station WKDN. Nothing appears certain given the lack of information on when the change will occur, however, so any of the details can change– especially the reasons for the move.
Have a tip we should know? tips@mediaite.com