Rush Limbaugh: Mainstream Media Will 'Rue The Day' They Allowed Anchors To Become Part Of The Story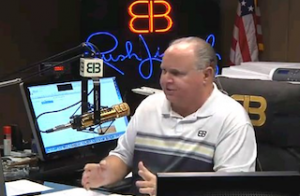 Rush Limbaugh identified a major new problem with the "mainstream media" on his show Monday. "It wasn't that long ago," Limbaugh explained, "that the mainstream media really did not want the anchors and reporters to become news." He added, "they will come to rue the day that they allowed that to happen." From there, he went on to explain why the practice of modern media figures injecting themselves into the story has essentially ruined journalism.
Limbaugh held up Walter Cronkite as the old ideal, saying that it would have been "profound embarrassment" for CBS had he become part of the story. Of course, that reading of history ignores the iconic moment when Cronkite delivered an editorial calling the Vietnam War a lost cause, which in turn led President Lyndon Johnson to declare, "If I've lost Cronkite, I've lost Middle America."
Unlike anchors from Cronkite's era, Limbaugh said that today, "people from the media end up going into government." He referred to the system as "revolving door, back and forth to the point now that there's no distinction between the two." He then referred to the "Washington media" specifically as a "branch of the Democrat party in government."
It is this alleged collusion between the mainstream media and the Democratic Party that Limbaugh credits for allowing President Obama to be re-elected to a second term. He claimed that "55-60% of the American people opposed what Obama was doing," but elected him anyway because the media has made sure that people do not associate those policies with the president himself.
Listen to audio below, via Rush Limbaugh:
—
>> Follow Matt Wilstein (@TheMattWilstein) on Twitter
Have a tip we should know? tips@mediaite.com