Limbaugh: 'When Is Obama Going To Refute Hoffa? Hell, Obama Wrote It For Him!'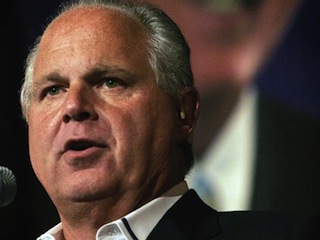 Rush Limbaugh promised listeners today that he was in a "fit to be tied mood" and, boy, was he. Right at the top, he launched into a classic rant about Barack Obama and James Hoffa that featured such Limbaugh touches as accusing Obama of either suggesting or actually writing Hoffa's controversial comments as well as insisting that Nino Rota's theme from The Godfather play under the entire segment.
Limbaugh asked if there was "any doubt that Obama has been thinking of Republicans as his bitches ever since he got elected" and played comparison clips of the President in his Tucson memorial speech and Hoffa's. He also pointed out that Hoffa's comments weren't at all metaphorical, comparing them to Sarah Palin's infamous bullseye map. That being said, a video of Hoffa's speech released by Fox News and including sections excised from the version Limbaugh played (including Hoffa saying "Everybody here's got a vote" right before "let's take these sons of bitches out") would seem to go against Limbaugh's argument.
Limbaugh also used the Arizona comparison to go after other Democrats and media figures. Playing Debbie Wasserman-Schwartz's appearance on Fox and Friends this morning as well as clips from various CNN shows. He made special point to note whenever the news anchors and politicians mentioned "radio hosts" and "shock jocks" in the aftermath of January's shooting, showing just how personally he was taking this situation.
He summed up his feelings saying "I hope, before all of this is over, Hoffa has to go hide in Italy somewhere."
Listen to the clip below:
Have a tip we should know? tips@mediaite.com