S.E. Cupp: 'Idiots' Are Attacking Paul Ryan Because 'Thinking' Is Elitist Now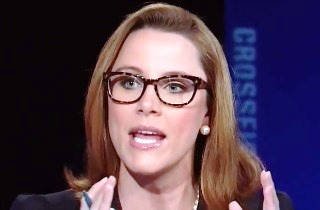 In a new column, CNN contributor S.E. Cupp writes that the attacks on Paul Ryan are the inevitable conclusion of Donald Trump's determination to purge America of "elitist establishment types."
Cupp has been open about her dislike of Trump in the past, but she found it interesting that traditional conservatism could be usurped so easily by Trump. While she acknowledged how tired people are with the behavior of the political elite, Cupp opined that "Queen of the establishment" Hillary Clinton will be president because of the massive infighting among Republicans, as well as those alarmed by his lack of "political nuance."
Cupp said that a prime example of this could be seen as Trump, Sarah Palin and others were only too eager to bite into Paul Ryan after he hesitated to give his vote of confidence to his party's choice.
Ryan is among the smartest, sanest, most skilled political leaders of either party, whose commitment to public service – and not celebrity – is virtually unparalleled, and yet this is the kind of person who should definitely be "Cantored," as Palin quipped, and kicked out of the party.

Worse, though, is what underlies her disdain. It's that "thoughtful consideration" in itself has become an apostasy to Palin and others who see it as a sign of weakness and entitlement, a scarlet letter of the elite, an affront to the "real people" Palin claims to represent.

This is not just anti-establishment, it's anti-intellectualism.
Cupp then noted that it was "disturbing" to see intellectual skepticism and political discussion instantly shredded and thrown out by Trump's base. She concluded that perhaps satirical filmmaker Mike Judge was right about America's steady progression to a real-life Idiocracy.
You can read her column here.
[Image via screengrab]
— —
>> Follow Ken Meyer (@KenMeyer91) on Twitter
Have a tip we should know? tips@mediaite.com