S.E. Cupp: If Trump Thinks Hispanics Love Him So Much, Why is Judge a Problem?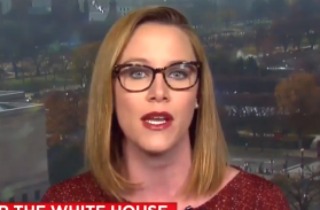 Conservative CNN contributor S.E. Cupp penned a new column today, where she broke down how Donald Trump's latest controversy has proven that one of his favorite bragging points is nothing but "total bull."
For the past week, Trump has gone after Judge Gonzalo Curiel because he's convinced a judge of Mexican descent presents a "conflict of interest" in the Trump University lawsuit. Cupp wrote that this was Trump's latest tactic to distract his "white nationalists" supporters from legal problems and policy weaknesses, but then she noted how it turns one of the mogul's talking points on its head.
Throughout his campaign, Trump has bragged about how he's winning with Hispanics even though that is definitely not true. To that point, Cupp wrote this:
"Remove your skeptical spectacles for a second, and pretend that is the case — if so, why would Curiel have a problem with Trump? He is Hispanic — does he not love him? By Trump's logic, Curiel — because he is Hispanic — should be on the Trump train, and his only so-called "conflict of interest" should be that he's a rabid Trump supporter.

Needless to say, I have no idea who Curiel is voting for in November. But what I do know is that Hispanics do not in fact love Trump. In a Washington Post/Univision poll, 8 out of 10 Latinos viewed Trump unfavorably. I guess, despite his taco bowl tweet, they didn't like being called rapists and criminals after all. Weird."
Cupp proceeded to say Trump "has blown his cover", and that he knows that by offending so many demographics, he has no choice but to solidify his white male vote base to have a shot at becoming president.
Read Cupp's column in its entirety here, via the New York Daily News.
[Image via screengrab]
— —
>> Follow Ken Meyer (@KenMeyer91) on Twitter
Have a tip we should know? tips@mediaite.com