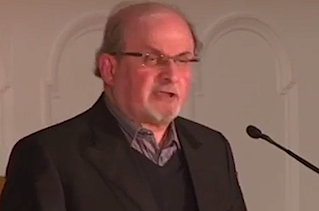 The University of Vermont in Burlington invited Salman Rushdie to speak on campus Wednesday night, giving The Satanic Verses
author a chance to deliver his most comprehensive response yet to the terrorist attack that targeting French satirical magazine Charlie Hebdo. Rushdie used the opportunity to defend free speech as an absolute right that cannot be diminished just because you happen to disagree with what someone is trying to say.
Rushdie said Charlie Hebdo and its cartoonists were "beloved" in France for the willingness to make fun of anyone and everyone. "The thing that I really resent is the way in which these, our dead comrades… who died using the same implement that I use, which is a pen or pencil, have been almost immediately vilified and called racists and I don't know what else," he said.
RELATED: Salman Rushdie: Religion Deserves 'Our Fearless Disrespect'
Echoing comments he made last week on Real Time with Bill Maher. Rushdie said, "The moment somebody says, 'Yes I believe in free speech, but' — I stop listening. 'I believe in free speech, but people should behave themselves. I believe in free speech, but we shouldn't upset anybody. I believe in free speech, but let's not go too far.'
"The moment you limit free speech, it's not free speech," he said. "You can dislike Charlie Hebdo, you know, not all their drawings were funny. But the fact that you dislike them has nothing to do with their right to speak. The fact that you dislike them certainly doesn't in any way excuse their murder."
Watch a clip of the speech below, via AP:
[Photo via screengrab]
— —
>> Follow Matt Wilstein (@TheMattWilstein) on Twitter
Have a tip we should know? tips@mediaite.com