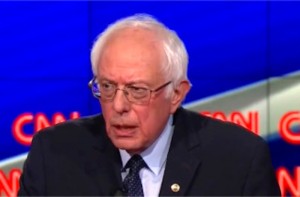 Bernie Sanders supporters have planned four days of rallies in Philadelphia surrounding the Democratic National Convention this July, according to a report in The Wall Street Journal.
The Journal reports that the City of Brotherly Love approved four demonstration permits from Sanders supporters, one of which is for a four-day-long event consisting of all-day rallies in FDR Park, which is located near the Wells Fargo Center, the main locus for DNC events. "The city said it expects 30,000 participants, and organizers said in an interview they hope turnout will be much higher," the Journal's Byron Tau writes.
The three other events will take place a few miles away and are expected to be roughly one-tenth as large.
Tau reports:
The events — which are being organized independent of campaign by supporters of Mr. Sanders — aim to call attention to support the Vermont Senator has received throughout the primary process and push for long-term changes in the way that the Democratic Party nominates candidates.

"The whole Bernie movement is an ideology. If Bernie wins the nomination, wins the presidency, that would be amazing. But even if Hillary does win the nomination, the movement has already started," said Steve Okan Layne, who is helping organize one of the demonstrations.
Democrats are voicing concerns about the potential for violence, especially following the fracas at last weekend's Nevada Democratic convention, where Sanders supporters became irate after the state's arcane delegate allocation procedures delivered fewer delegates to Sanders than to frontrunner Hillary Clinton.
Sanders supporters cried foul, and Sanders campaign manager Jeff Weaver claimed that the party leaders had "hijacked the process on the floor." PolitiFact concluded that, "There's no clear evidence the state party 'hijacked' the process or ignored 'regular procedure.'"
Clinton currently leads in both pledged delegates and superdelegates, but Sanders has vowed to continue his campaign all the way to the convention.
Have a tip we should know? [email protected]