Tucker Carlson Mocks Beck for Being 'Awe-Inspiring' Suck-Up at Facebook Meeting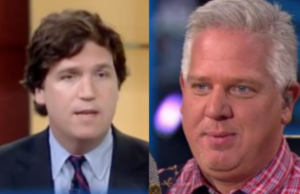 Daily Caller editor-in-chief Tucker Carlson has been suggesting recently that some of his fellow conservatives were real brown-nosers when they met with Mark Zuckerberg this week. Today, Carlson decided to name the "talk show host" who he's been teasing as the biggest kiss-up in the room: Glenn Beck.
Speaking with Politico, Carlson said that Beck was more interested in groveling before Facebook's innovative billionaire CEO than he was in addressing the alleged liberal bias of the site.
"I went to that meeting expecting Beck to cry, rend his garments while quoting James Madison, but that's not at all what happened," Carlson said. "He began the most extended assiduous suck-up I think I've ever seen a grown man commit. He acted like he was auditioning to be Mark Zuckerberg's manservant — it was awe-inspiring."
Beck issued major praise to Zuckerberg and Facebook yesterday, having penned a column where he said that they showed interest in addressing the problem at the meeting. A great deal of his piece actually tore into his fellow panelists, whom he said were demanding a conservative "affirmative action" as they tried to get an answer for every problem they had with spreading news online.
Carlson also told Politico that he was the one who pushed most for a diversified sociopolitical platform, and that what Beck wrote was a "total mischaracterization" of the panel:
"[Beck] turns around and says 'You're acting like Jesse Jackson trying to shake down Facebook or demand quotas.' Which of course is the opposite of what I'm in favor of.'"
[Image via screengrab]
— —
>> Follow Ken Meyer (@KenMeyer91) on Twitter
Have a tip we should know? tips@mediaite.com