Santorum Accuses Fox News Of Shilling For Romney, Is Called Out By Brian Kilmeade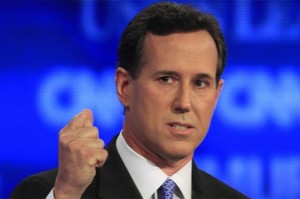 Rick Santorum is frustrated. He's frustrated with the money Mitt Romney has been able to funnel into his campaign, and he's royally fed up with what he views as the unofficial endorsement he's received from Fox News. Of course, Santorum pointed out, it's not as if any of this has been able to help Romney firmly connect with voters.
Santorum expressed this frustration on Fox News Radio's Kilmeade and Friends today, where he was challenged by host (and Fox & Friends co-host) Brian Kilmeade.
RELATED: Rachel Maddow Mocks Fox News' Coverage Of Gingrich Vs. Romney In 'Murdoch Primary'
The man has had a ten-to-one money advantage. He's had all the organizational advantage. He has Fox News shilling for him every day — no offense, Brian, but I see it. And yet he can't seal the deal because he just doesn't have the goods to be able to motivate the Republican base and win this election.
He also voiced his disagreement to recent comments by Fox News contributor Dick Morris, opining that a shorter race — not a long- drawn out one — ends up being better for voters, because it won't allow the media and Obama's campaign to publicly "beat up on" candidates.
"On Fox News shilling for Romney 24 hours a day," said Kilmeade, bringing up Santorum's earlier point, "I totally disagree with that."
"You can feel the way you want," he continued as the two attempted to spoke over one another. "I'm just telling you, there's no way I agree with that. And you've been on as much as anyone."
Kilmeade later pointed out that Romney's people "respond when we request, and we've been requesting you on this show for about three and a half months, minimum, and we've gotten nothing but, 'yeah, we'll see.'"
Have a listen, courtesy of Fox News Radio's Kilmeade and Friends:
Have a tip we should know? tips@mediaite.com