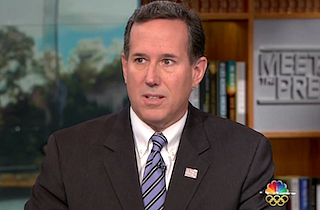 It shouldn't surprise anyone that Rick Santorum happens to be one of the 2016 candidates who sympathizes with Kim Davis' resistance to give out marriage licenses to gay couples. Santorum is so "proud" of Davis, as it were, that during a radio interview yesterday, he compared her stand for her beliefs to that of Martin Luther King Jr.
It was on AM970's The Answer where Santorum, a well known opponent of LGBT rights, said that Davis' five days in jail reflected a history of those who would rather be imprisoned than compromise their beliefs. Santorum said that Davis demonstrated the inevitable result of Obergefell V. Hodges, and that public officials should be provided with accommodation when their faith is challenged by their public responsibilities:
"Martin Luther King went to jail because he didn't follow the law. There's a long precedent in America from people saying, 'You know the law has to change to accommodate what is the right thing to do, in their own moral judgment…I can tell you I'm very proud of the fact that she stood up for those convictions and she should stood up for what I believe."
Santorum said that he would counter the court's "unconstitutional" assertions as president, and that he was proud that Davis did not bend to the "abuse" forcing her to work against her convictions.
"I can tell you I'm very proud of the fact that she stood up for those convictions and she should stood up for what I believe and I think most people who are commenting on this who agree with my position," Santorum said. "[This] is an abuse by the Supreme Court of their power."
You can listen to the segment here:
[h/t Buzzfeed]
[Image via Screengrab]
— —
>> Follow Ken Meyer (@KenMeyer91) on Twitter
Have a tip we should know? [email protected]