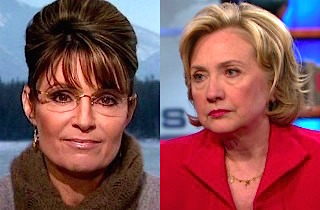 Sarah Palin has officially weighed in on the Hillary Clinton email controversy. And she did it with a Fox News op-ed as opposed to a Facebook post, so you know she's serious.
In the new piece published Monday, Palin compares the scrutiny over her emails as governor of Alaska to the kerfuffle over Clinton's use of a personal email address and server as secretary of state.
"It's appropriate and proper for a politician to use private email for personal and campaign business. This is what I did as governor of Alaska in order to be in compliance with the law, which requires that personal or campaign business not be conducted using public resources such as a government email account," Palin writes. "However, that's not what we see with this Clinton email scandal."
She goes on to explain that Clinton's use of personal email for government business was "unethical, no doubt illegal, and flies in the face of all claims of transparency." On the "illegal" question, Palin is at odds with Fox News' own legal analysts. "Hillary Clinton and her staff weren't trying to be in compliance with the law; they were skirting it altogether."
Palin contrasts her own compliance with FOIA requests for her private emails, which she described as fundamentally "boring," to Clinton's alleged attempts to conceal her official correspondence.
"Good luck finding those missing emails. And good luck getting a straight answer from the Obama administration as to why no one in the White House noticed that the Secretary of State wasn't using a government email account," she writes of the White House response to the issue. "You'd expect more from the self-described 'most transparent administration in history. And you should demand more from anyone who wants to be president someday."
Palin writes that the only emails she held back from public view were ones that were covered by attorney-client privilege. But as the Anchorage Daily News reported in 2011, after her office released her emails to the press, there was a nearly one-month gap — her first full month as governor — in which supposedly no emails were sent.
"That means zero emails during a period during which, among other things, Palin put out her proposed state budget, appointed an attorney general, killed the contract for a road out of Juneau and vetoed a bill that sought to block state public employee benefits to same-sex couples," the paper reported at the time.
[Photo via screengrab]
— —
>> Follow Matt Wilstein (@TheMattWilstein) on Twitter
Have a tip we should know? [email protected]