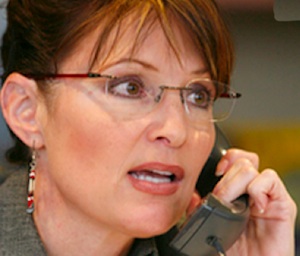 Following President Obama's press conference where he invoked his daughters in responding to a question about why he personally contacted Georgetown University law student Sandra Fluke, former Alaska Governor Sarah Palin blasted out a Facebook statement, demanding his return of Bill Maher's check. "Pres. Obama says he called Sandra Fluke because of his daughters," Palin wrote cuttingly. "For the sake of everyone's daughter, why doesn't his super PAC return the $1 million he got from a rabid misogynist?"
In February, Maher, who once called Palin the c-word, announced he was donating $1 million to Priorities USA Action, a pro-Barack Obama Super PAC.
RELATED: President Obama Invokes Sasha & Malia In Response To Rush Limbaugh Slut Remarks

Obama explained to reporters Tuesday that he would never want his daughters talked to in the way Fluke was by Limbaugh.
"The reason I called Ms. Fluke is because I thought about my daughters, and one of the things I want them to do as they get older is to engage in issues they care about, even ones I may not agree with them on. I want them to be able to speak their mind in a civil and thoughtful way," Obama explained.
"And I do not want them attacked or called horrible names because they are being good citizens, and I wanted Sandra to know that I thought her parents should be proud of her, and that we want to send a message to all of our young people that being part of a democracy involves argument and disagreements and debate, and we want you to be engaged, and there's a way to do it that doesn't involve you being demeaned and insulted, particularly when you are a private citizen."
Have a tip we should know? tips@mediaite.com