Sarah Palin Details 'Heroism, Courage, A Warrior's Spirit' In Fox News Special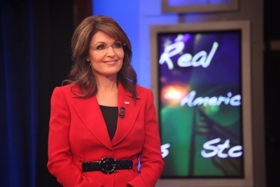 It's a bit ironic that all the controversy from the rap and country worlds leading up to Sarah Palin's first ever Fox News special concerns one of the least controversial things she may have ever taken part in.
Mediaite got an exclusive first look at the special – here's what to expect on Fox News tomorrow at 10pmET:
The hour is made up of inspiring people, focusing on everyday heroes from across the spectrum. The 'stock hero' nature of the stories – helping children, Marine, boy and his dog – doesn't make each tale tug less at your heartstrings. Many of the stories conclude with short interviews between the key participants and Palin on a set in front of a studio audience, brief interactions that allow Palin, and likely Fox News, a chance to see her flex potential talk show muscles.
The special begins with Palin speaking directly to the camera. "Heroism, courage, generosity, a warrior's spirit – these are the things that unite all Americans," she says. Then we're off to meet George Weiss, who started the "Say Yes" program and is helping kids all over the country go to college. Weiss' story, as the others, are voiced by Palin, so her role of narrator makes it seem like we get more Palin that we actually do. There are subtle political undertones to the Weiss report, and a few others – in a follow-up interview with the "Say Yes" program head of the Harlem chapter, Palin praises the work of "private sector contribution."
The next story tells the circumstances surrounding the heroic death of a young Marine (as detailed in the book The Gift of Valor), with the third focusing on Cole Massie, a special needs boy who was "saved" by Elia, his dog. Massie and his family (and dog) were on set after, for a relevant talk with Palin about living with special needs children (with her own experience at the forefront of viewer's minds). If anyone had any doubt at this point if the show would be successful, the impossibly adorable Cole, who starts his answers with "Well, Ms. Palin…" and throws around phrases like "the sky's the limit," puts that to rest.
Those who love Palin will love this – those who hate her won't find much to bash, other than to maybe snark the occasional awkwardness in her on-set exchanges. There's very little doubt the former GOP VP nominee will be an enormous star, and this proves that even further. Maybe she stumbles a bit in interviews, but in this format – awfully similar to an Oprah-like show – she thrives.
Will we see more Palin Fox News specials? You betcha.
Have a tip we should know? tips@mediaite.com