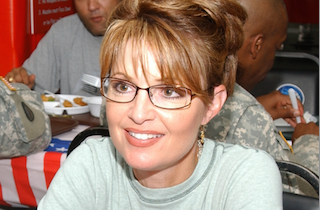 On Friday, Sarah Palin joined Rush Limbaugh, Sean Hannity, George Will and other conservatives in criticizing the Obama administration's embrace of the #BringBackOurGirls hashtag campaign aimed at raising awareness about the Nigerian schoolgirls kidnapped by the extremist group Boko Haram. Her remarks came not on radio or television like those others, but on her Facebook.
"Diplomacy via Twitter is the lazy, ineffectual, naïve, and insulting way for America's leaders to deal with major national and international issues," Palin wrote in her Facebook post. "It's embarrassing."
She did learn from Ann Coulter's mistake, posting a photo of an unnamed "patriot" holding up a sign with mock hashtags instead of using one of herself.
"What is the Obama administration's weapon of choice in this battle for these young girls' lives?" Palin asked. "Hashtagging tweets on social media! I kinda-sorta doubt a tweet will intimidate the kidnappers much. So, if you're going to jump in and do something about these Islamic terrorists at all, then do it right, do it firmly, and kick their ass."
She even gets a Facebook reference in with her final charge for the president. "If you're going to get involved anyway, Mr. President, learn to understand this and believe it, then announce it: Victory is only brought to you 'courtesy of the red, white and blue,'" she concluded. "It's certainly not won by your mere 'unfriending' the bad guys on Facebook. Leading from behind is not the American way."
Read the full post below:
Naturally, she also posted a link to the message on Twitter:
OBAMA TWITTERING TEETERS TOWARDS CHAOS

This photo says it all about the Obama administration's reliance on… http://t.co/bwK4qqNrJf

— Sarah Palin (@SarahPalinUSA) May 16, 2014
[Photo via Wikimedia Commons]
— —
>> Follow Matt Wilstein (@TheMattWilstein) on Twitter
Have a tip we should know? tips@mediaite.com