Sarah Palin's Facebook Note On Ground Zero Mosque Deleted After Hate Speech Drive? (Update)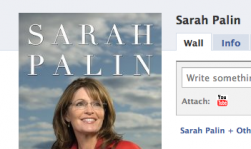 This is interesting. Sarah Palin posted a long Facebook note late Tuesday night continuing her recent campaign advocating (refudiating) against the building of the Ground Zero mosque. Palin, who has lived most of her life in Alaska, has been focused on the controversial subject of late and had tangled with Mayor Bloomberg over it earlier this week.
The Facebook note made the usual waves that Palin's notes usually do (arguably slightly less as news cycle was submerged in all things Sherrod this week) but now it appears to have been erased and no explanatory note for its absence has been added.**
Ben Smith notes there was a drive to "flag it as hate speech" on Facebook which may have brought it down. If so, this could mark a fascinating turn of events for Palin's Facebook prowess. What if opponents of Palin decide to respond this way to all her Facebook notes? Will Facebook have to create a new automated system — which Smith reports may have disappeared it automatically — to deal specifically with Palin?
**Update: The note's back up, with a note saying: "The original post of this statement (on July 20, 2010) was somehow unintentionally deleted by mistake or technical glitch."
Update again: Facebook emailed us with this statement:
"We're investigating this incident to determine why and how the content in question was removed."

"We want Facebook to be a place where people can openly discuss issues and express their views while respecting the rights and feelings of others. The goal of our policies is to strike a very delicate balance between giving people the freedom to express their opinions and viewpoints – even those that may be controversial to some – and maintaining a safe and trusted environment."
Update #3: Facebook just emailed with further comment: "The note in question did not violate our content standards but was removed by an automated system. We're always working to improve our processes and we apologize for any inconvenience this caused."
Have a tip we should know? tips@mediaite.com