Scalise in 1999: I Share Many 'Conservative' Views with KKK Leader David Duke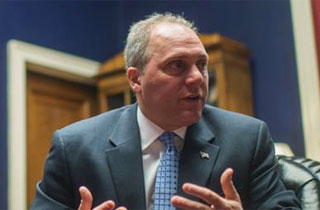 An old interview from 1999 has come back to haunt Rep. Steve Scalise (R-LA), the new House Majority Whip who acknowledged yesterday that he once gave a speech at a white supremacist convention organized by well-rounded neo-Nazi David Duke.
After Louisiana political blogger Lamar White Jr. ran a report about then-state representative Scalise speaking at a 2002 convention of the European-American Unity and Rights Organization (EURO), an organization founded by Duke, Scalise claimed that he had no idea that he was speaking at a white supremacist conference. "The hate-fueled ignorance and intolerance that group projects is in stark contradiction to what Mr. Scalise believes and practices as a father, a husband, and a devoted Catholic," his spokeswoman said.
But a statement he gave to Roll Call in 1999 somewhat contradicts his claim. Scalise, who was interviewed as part of a piece about Duke potentially running for Congress (again) admitted that the KKK Grand Wizard would likely not get elected to represent Louisiana's 1st Congressional District. But:
Another potential candidate, state Rep. Steve Scalise (R), said he embraces many of the same "conservative" views as Duke, but is far more viable.

"The novelty of David Duke has worn off," said Scalise. "The voters in this district are smart enough to realize that they need to get behind someone who not only believes in the issues they care about, but also can get elected. Duke has proven that he can't get elected, and that's the first and most important thing."
It also doesn't help that yesterday, Duke called Scalise a "fine family man" and emphasized their mutual friendship.
"Scalise would communicate a lot with my campaign manager, Kenny Knight," Duke told the Post in an interview. "That is why he was invited and why he would come [to the EURO convention]. Kenny knew Scalise, Scalise knew Kenny. They were friendly."
It's important to note that the political atmosphere of Louisiana at the time was far friendlier to Duke's views than it is today: the Roll Call article in question explored his political popularity in the '90s as he attempted to downplay his Nazi background and present himself as a modern conservative focusing on "taxes, welfare reform and racial quotas."
In 1999, however, the rest of the GOP officials quoted in the article had condemned Duke's views. "By fall, you'll see a rush by elected officials uniting behind a strong candidate to make sure they don't have to deal with someone who wouldn't be acceptable to Louisiana voters," said Becky Miller, then the executive director of the state GOP. "Duke has some Republican principles, but for the most part he's outside the box."
[Roll Call]
[Image via Steve Scalise/Facebook]
—
>> Follow Tina Nguyen (@Tina_Nguyen) on Twitter
Have a tip we should know? tips@mediaite.com