Scandal! Study Accuses President Obama Of Inflating His Twitter Follower Numbers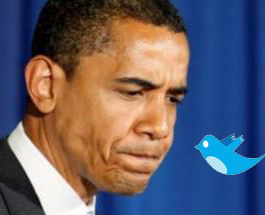 Forget that Black Panther voter intimidation nonsense, this is the real scandal! An Australian organization named uSocial has accused a number of public figures of gaming their Twitter accounts by inflating their numbers of followers. The list of people accused includes Lady Gaga, Britney Spears, Arnold Schwarzenegger, and even the most powerful man in the free world: Justin Bieber! Oh, and also President Obama.
This is clearly shocking, earth-shattering news, but how can we trust some Australian website over our own politicians and floppy haired tween sensations? Well, according to New Jersey Newsdesk, uSocial would know these people are cheating the system because it's their job to show people how to do just that.
From New Jersey Newsdesk:
The Australian company describes itself as the first firm to sell advertising on Twitter. On the front page of its website, uSocial offers a link for those wanting to "buy followers" on Twitter.

That takes would-be buyers to text and video ads, asserting, "We know the secrets of making you a rock star overnight." The company says that it can deliver "up to 100,000 targeted, real Twitter followers to your account."

"Big follower numbers can mean big dollars," the ad says, noting the success of business social media marketing often depends on numbers generated by networking sites.

Hill did not immediately reply to a question as to whether any of its own customers are among the leaders in phony numbers.

But according to the uSocial statement, it is "extremely likely" that at least 15 of the top 100 Twitter users with the largest followings have inflated numbers. It considers another 10 of the top 100 as possibly juiced.
This is about as timely a scandal as you can get. Nothing screams 2010 like politicians getting heat for lying about the amount of people who read messages shorter than this paragraph while waiting in line at the cafe. Seriously though, if we can't believe what the Obama administration says about their Twitter followers, how are we supposed to believe them about the important stuff? You know, stuff like their public statements, policies, and Farmville stats.
(via Newsweek)
Have a tip we should know? tips@mediaite.com