Scarborough: New AG Jeff Sessions Should Reveal Intentions For Walter Scott Case 'Immediately'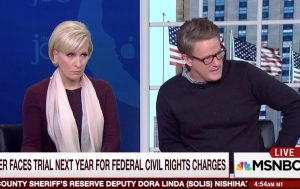 Outrage continues to grow over the stunning lack of conviction in the 2015 shooting death of Walter Scott in South Carolina, the unarmed black man who was targeted by police officer Michael Slager and shot five times in the back as he ran away.
A hung jury was not enough to convict Slager despite damning video evidence that clearly shows a distance of eighteen feet between Scott and Slager as the shots were fired. Additionally, Slager can be seen clearly on tape (according to the prosecution) further planting evidence without knowing he was being filmed.
The anger was palpable on MSNBC's Morning Joe Tuesday, as the panel brought in Chief Legal Correspondent Ari Melber and Rev. Al Sharpton for the discussion that encapsulates the frustration that many are today feeling. "The real question is: will this next administration continue the federal charges?" Sharpton asked, pointing out that the family of Walter Scott is hopeful that this is simply just a situation where justice is being delayed. "We hope that the federal trial still goes on under the next administration."
And there is one man who alone can give insight to the prosecutorial priorities of the Trump administration: the soon-to-be Attorney General Jeff Sessions of Alabama. "That's a questions that Jeff Sessions should be asked immediately when he gets in front of the Senate," said Joe Scarborough, "Whether they are going to go ahead and move ahead with federal charges against a police officer condemned by his own department who shot a black man in the back five times."
The prosecutor for Charleston County Scarlett A. Wilson said Monday, "We will try Michael Slager again… We hope the federal and state courts will coordinate efforts regarding any future trial dates but we stand ready whenever the court calls."
Watch above via MSNBC.
—
[image via sceengrab]
Have a tip we should know? tips@mediaite.com