Scarborough, Others Share Months-Old Article Reporting Seb Gorka Leaving White House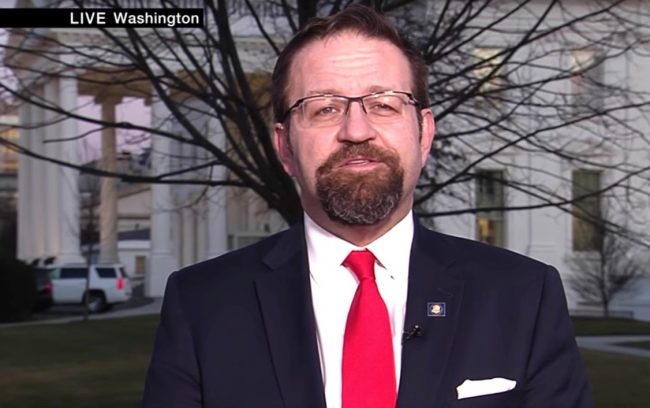 With White House chief strategist Steve Bannon given his walking papers last week, it was reported that presidential deputy assistant Sebastian Gorka could be next. And, of course, that made sense, considering Gorka also came from Breitbart — Bannon has already returned to the right-wing outlet — and Gorka shares Bannon's populist-nationalist views.
So it didn't seem all that shocking when an article from the Los Angeles Times began making the social media rounds today claiming Gorka was leaving the White House. The piece got a big boost when MSNBC's Joe Scarborough tweeted it out to his 1.69 million Twitter followers.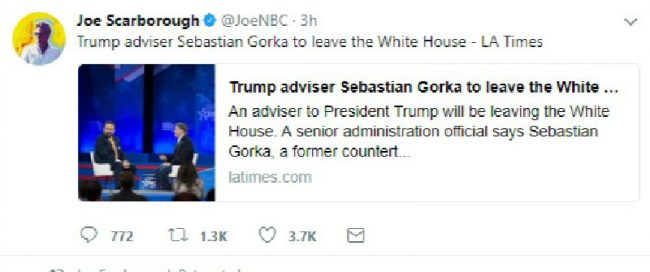 And CNN political commentator Ana Navarro also shared the piece:
If true, and Gorka's leaving, Kelly's doing a good job clearing a bunch of dangerous crazies from the WH…except 1. https://t.co/SoSTBQhlUH

— Ana Navarro (@ananavarro) August 20, 2017
Only one little problem — the article is from May 1st. Back at that time, a senior administration official told the Associated Press that Gorka would be leaving in a matter of days. However, Gorka's departure never came to fruition and, in fact, he became of favorite of President Trump's due to his combative TV interviews.
CNN's Brian Stelter noted that a number of journalists had mistakenly shared the piece because they thought the news had just broken about Gorka's termination.
Today a # of journos shared a May 1 @latimes story titled "Sebastian Gorka to leave the White House," thinking the news just broke. Nope… https://t.co/hVlxUHbYCm

— Brian Stelter (@brianstelter) August 20, 2017
The New York Times' Glenn Thrush copped to sharing the report and poked a little fun at himself in doing so:
Premature on the Gorka thing — my bad… reports are that he's on the bubble and the old clip came up in my feed… fake news!

— Glenn Thrush (@GlennThrush) August 20, 2017
The article apparently got shared so much that the Times decided to put the following editor's note at the top of the piece so readers knew that this was old news:
Note, Aug 20: This article was published May 1. Sebastian Gorka currently serves as a deputy assistant to President Trump.
So, just a reminder, folks. Always look at the article before sharing.
UPDATE – 6:23 p.m. EST: Scarborough has acknowledged his mistake on Twitter:
Deleting the older LA Times story I teeeted out earlier by mistake. https://t.co/w3ugpMvlbr

— Joe Scarborough (@JoeNBC) August 20, 2017
[image via screengrab]
—
Follow Justin Baragona on Twitter: @justinbaragona
Have a tip we should know? tips@mediaite.com