Scott Baio's Wife to Sandy Hook Mother: 'Maybe Your Children Are in a Better Place'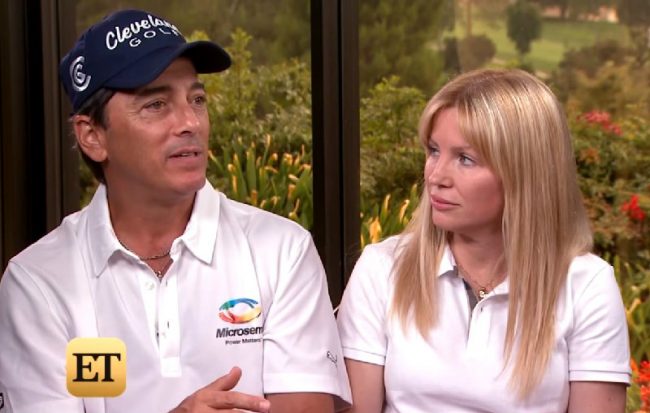 Oof.
With her husband already taking quite a bit of grief following his apparent suggestion that the Sandy Hook shooting was a false flag — leading to a sister of a Sandy Hook victim saying he spewed hate — the wife of one-time Happy Days star Scott Baio just made things a whole lot worse for them.
In a since-deleted tweet, Renee Baio responded to a message from Nelba Marquez-Greene by telling her that it might be better that her child is dead and that Marquez-Greene's "ugliness knows no bounds."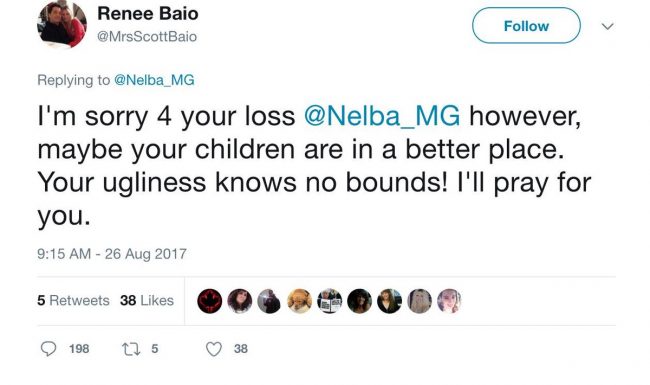 As Marquez-Greene notes in her Twitter bio, her daughter was murdered in the tragic mass-shooting while her son survived.
Baio would not only go on to delete the tweet following backlash on social media, but she also locked her Twitter account, making it private.
And, yes, there was quite a bit of backlash:
Wow, @MrsScottBaio, who is @ScottBaio's wife, sent this tweet to a Sandy Hook mother. Disgusting. pic.twitter.com/ZlhSnhgfkz

— Yashar Ali ? (@yashar) August 26, 2017
Renee Baio even your own god would disavow you.
What you said to a woman who lost her child is revolting.
You should be ashamed of yourself

— IM?HIM (@ziyatong) August 26, 2017
I'll predict Renee Baio, the wife of actor Scott Baio, is about to go viral.

— Richard Deitsch (@richarddeitsch) August 26, 2017
Well @mrsscottbaio protected her account but the internet never forgets when you say this to a Sandy Hook victim's mother… https://t.co/G18Wz9EG8H

— keithlaw (@keithlaw) August 26, 2017
2) There's been so much ugliness since the election. Such a degradation of morals and empathy and compassion.

— Shannon Watts (@shannonrwatts) August 26, 2017
This is despicable. What makes people like Mrs. Baio so heartless? How can they be so bereft of human compassion?

— Carter Gaddis (@DadScribe) August 26, 2017
[image via screengrab]
—
Follow Justin Baragona on Twitter: @justinbaragona
Have a tip we should know? tips@mediaite.com