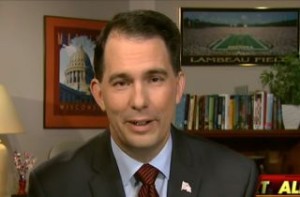 Wisconsin Gov. Scott Walker has some words of advice for Donald Trump, the party's soon-to-be official nominee.
Speaking to Milwaukee Journal Sentinel's Craig Gilbert, Walker advised Trump to focus on attacking the Clintons and President Obama, rather than getting distracted by skirmishes within the GOP. "That's the best way to unite the party," he said.
"I said (to Trump) it's unsolicited advice, which I'm sure you get all the time, but it's my suggestion he really limit his comments about other people to Hillary Clinton and to a lesser extent Bill Clinton and Barack Obama," Walker said.
"Don't talk about other Republicans, don't talk about other people, talk about the contrast between him and Hillary. Most importantly, talk about what you're going to do to make everyday Americans have a better life," he added.
Once considered one of the rising stars of the GOP, Walker was the second Republican presidential contender to drop out of the race, suspending his campaign on Sept. 21. At the time he issued a short, blunt statement, advising the GOP to "get back to the basics of our party" and to rally quickly behind a "positive conservative alternative to the current frontrunner," whom he did not identify by name. He later endorsed Ted Cruz, before finally throwing his support behind "the GOP nominee."
Last August, I said I'd support the GOP nominee. It's now clear who the RNC delegates will vote to nominate. And he is better than she is.

— Scott Walker (@ScottWalker) July 6, 2016
Have a tip we should know? tips@mediaite.com