Sean Hannity Warns America: 'You Get The Government You Deserve' With Barack Obama — 'Good Luck With That'
Hannity: 'You Get The Gov't You Deserve' With Obama, 'Good Luck With That'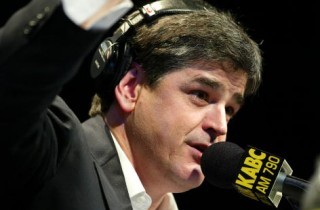 On his syndicated radio show Wednesday afternoon, host Sean Hannity rallied his conservative audience to redouble and keep up the fight for their ideas in the wake of Tuesday night's electoral defeat. However, he lamented that Americans get the government they deserve, and right now they deserve Barack Obama.
"We lost a tough election. And it's not the first time and it won't be the last time," Hannity told his audience. "But the country will come calling, at some point, for conservatism."
He attempted to rally any conservatives disheartened by the electoral defeat: "You can't give up the fight. You don't give up in the cause you believe in. You can't call yourself a conservative. The country we love. What happens to the world if American doesn't lead? You can take a few days to feel sorry for yourself, but it doesn't do any good."
After asking his audience to shake it off and "redouble" their efforts to continue the fight, Hannity then pivoted to address America as a whole:
Americans, you get the government you deserve. And it pains me to say this, but America right now deserves Barack Obama. You deserve what you voted for. I know half the country didn't vote that way, but Americans deserve the government that they want and they deserve. Four years ago, the public could be excused for voting for Obama because, frankly, he was a blank canvas…. Now he is a known entity. And just barely over 50 percent looked at his pathetic record and decided they wanted more of the same.
Hannity condemned what he considers "bad judgment" on the part of Americans for wanting more of Obama, but concluded:
We are a self-governing country and the voice and the will of 'We the People' have now been heard. America wanted Barack Obama four more years. Now you've got him. Good luck with that.
Have a listen below:

— —
>>
Follow Andrew Kirell (@AndrewKirell) on Twitter
Have a tip we should know? tips@mediaite.com