Secret Service Agent in Facebook Post: 'I Would Take Jail Time' Rather Than Take a Bullet For Trump
In a newly discovered social media post, a 23-year veteran of the Secret Service voiced strong support of Hillary Clinton during the general election campaign, and further suggested that she would rather be incarcerated than take a bullet for then candidate and now President Donald Trump.
The Washington Examiner unearthed a Facebook post from special agent Kerry O'Grady, who is in charge of the Denver district of the Secret Service, in which she makes her opposition to Trump plainly clear, despite the fact that she does not refer to him by name.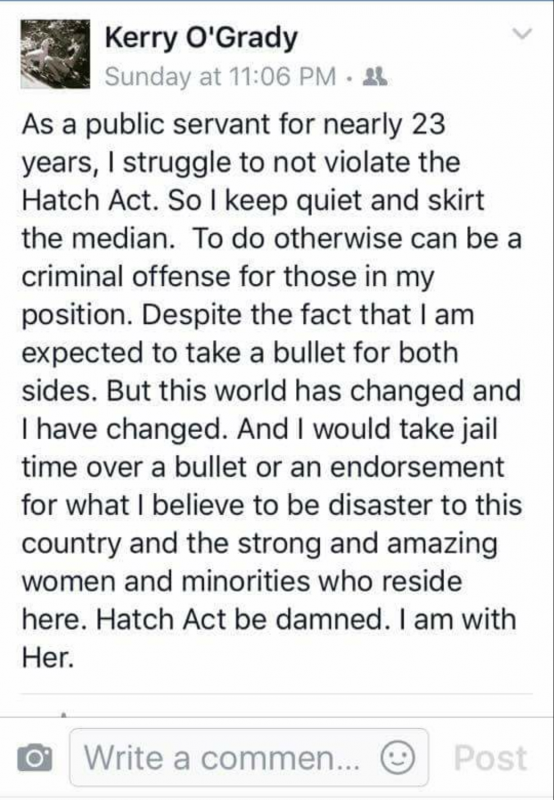 The Hatch Act to which she was referring prohibits Secret Service employees, among others, from expressing partisan political views on social media.
Special agent O'Grady released the following statement, per the Washington Examiner
I serve this country with pride and I proudly diligently and fiercely protect and support the institutions and pillars of our republic established by the very same document that allows my free expression. I do so with every fiber of my being for the very reason that those institutions are in place to guarantee my right and the rights of all our citizens to voice and express our opinions and beliefs even when and especially when those values may be contrary to those of the party in power. My devotion to mission and country is only strengthened by the fact that the founders recognize the value of dissent and the freedom to assemble and voice those opposing convictions.

They enshrine those rights for future generations so we avoid the path of authoritarian regimes that shackle their people with fear.
The Examiner reports that O'Grady said that her ability to do her job would not be impacted by her support for Clinton.
"I firmly believe in this job," O'Grady said. "I'm proud to do it and we serve the office of the President."
–
Follow Joe DePaolo (@joe_depaolo) on Twitter
Have a tip we should know? tips@mediaite.com
Joe DePaolo - Senior Editor