Secretary Tillerson to Close State Dept. War Crimes Office in Blow to Women's Rights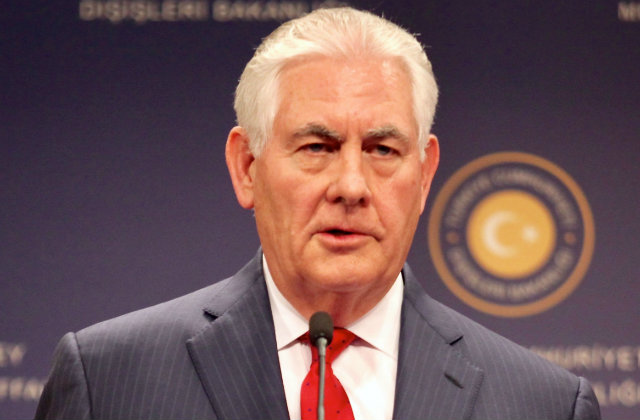 On Monday, Foreign Policy reported that department officials under Secretary of State Rex Tillerson told the outlet that Tillerson plans to close the department's war crimes office, a move that will likely result in further decline of the United States' global reputation and harm global women's rights.
According to the report, Todd Buchwald, the special coordinator in the Office of Global Criminal Justice (OGCJ), was recently told by Tillerson's office that he would be reassigned to a new position in the legal affairs department. The remaining staff of the Office of Global Criminal Justice may also be reassigned.
"The State Department is currently undergoing an employee-led redesign initiative, and there are no predetermined outcomes," another spokesperson of the state department told Foreign Policy in a statement. "We are not going to get ahead of any outcomes."
In essence, the future of the Office of Global Criminal Justice is, more or less, in the air right now. But if it were to close under any presidential administration, of course it would be under President Trump, who enthusiastically supports torture and seems to almost want to destroy the United States' foreign alliances, constantly making controversial and even offensive comments about NATO allies, China, Mexico, and others.
And, of course, the Trump administration, led by an alleged sexual predator and abortion rights opponent, has never ceded an opportunity to attack women's rights, too. First, it was a global gag rule to censor information about reproductive rights, and now, it could be shutting down an office meant to fight rape, sex slavery, and violence against women in war zones.
That's not at all to say that shutting down the Office of Global Criminal Justice wouldn't mark a blow to human rights, in general — war crimes affect and victimize all human beings indiscriminately. But historically and today, as well, women and children are often the most vulnerable group, especially where sexual violence is concerned, according to the United Nations. Closing the war crimes office is an attack on human rights, but one that would perhaps disproportionately affect women, and requires more attention from women's rights activists than its receiving.
At the end of the day, despite criticism of the brutality and often racially charged notions of other non-western countries' barbarism, the United States has a long history of committing all kinds of atrocities in the countries it invades, and shutting down the office marks a terrifying step backwards in terms of war criminal accountability. What's going on is certainly happening quietly, amidst a storm of controversy about health care and Russia, but with everything at stake, it can't be ignored.
This is an opinion piece. The views expressed in this article are those of just the author.