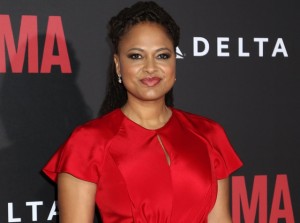 Despite her film Selma's apparent snub at the Oscars back in February, director Ava DuVernay hasn't let Hollywood's current industry-wide squabbles over racial diversity and gender equality get in the way. She and Selma actor David Oyelowo are already hard at work on a film about Hurricane Katrina, and now she's being rumored for a Marvel film.
Yes, Marvel Studios — the highly successful Disney-owned company that has been producing film adaptations of its popular comic book characters since the Robert Downey, Jr.-starring Iron Man in 2008. Also, the same company that's come under criticism repeated for its striking lack of diversity — both in front of and behind the camera. (After all, Scarlett Johansson's Black Widow character didn't get her own film until Saturday Night Live made a fake one, and it was a romantic comedy.)
According to the lesser known entertainment website MCU Exchange, DuVernay has been hired by Marvel to direct its Black Panther film, which will star Chadwick Boseman in the titular role.
EXCLUSIVE: Marvel Taps Ava DuVernay To Direct @theblackpanther http://t.co/CMaCxdaK3r pic.twitter.com/BTGjDR57bW

— Marvel MCU (@Marvel_MCU) June 22, 2015
As Vanity Fair and other larger outlets who picked up the story noted, neither Marvel nor DuVernay have made any official comment on the matter, so the story remains unconfirmed. With such a highly popular subject matter at stake, those in the entertainment news industry are often wary of reported rumors like these — especially when the sources refuse to go on the record, or when the story cannot be corroborated by others.
Still, the only other woman to even attempt to direct a Marvel film was Patty Jenkins, the Monster director who was originally attached to Thor: The Dark World, but left due to creative differences with Marvel president and executive producer Kevin Feige. All of the other directors in Marvel's ranks — successful and otherwise — have been white males.
Since Black Panther's source material in the comics concerns Wakanda, the isolationist yet highly advanced African nation which western nations repeatedly attempt to pilfer from, Marvel needs to tread very delicately with how they decide to produce their Phase Three film. Considering her phenomenal portfolio, DuVernay sounds like just the woman for the job.
[h/t Vanity Fair and MCU Exchange]
[Image via Shutterstock.com]
— —
>> Follow Andrew Husband (@AndrewHusband) on Twitter
Have a tip we should know? tips@mediaite.com