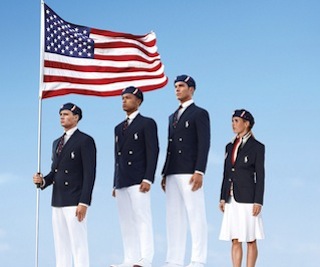 Sen. Harry Reid of Nevada said he'd rather see the U.S. Olympic team march in the 2012 London Olympics opening ceremony in nothing but American-made singlets than wear uniforms made in China. "Put them in a big pile and burn them," he said.
"I am so upset that I think the [U.S.] Olympic Committee should be ashamed of themselves, I think they should be embarrassed," Reid said Thursday. "I think they should take all the uniforms, put them in a big pile and burn them and start all over again."
The uniforms — which include berets, shirts, blazers, skirts and trousers designed by Ralph Lauren — were all made in China, according to ABC News.
"[If] all that they have to wear is nothing but a singlet with USA on it painted by hand that's what they should wear. We have people in the textile industry who are desperate for jobs," Reid said.
RELATED: Fox & Friends Gets To The Bottom Of The U.S. Olympic Team's Unpatriotic Berets
The U.S. Olympic team previously wore uniforms that were made in China in 2008.
In a statement, Ralph Lauren said the uniforms embody "the spirit of American athleticism and sportsmanship," but made no mention of the spirit of the American worker or textile industry.
The uniform, which is available on the company's website, carries a hefty price tag for Olympic enthusiasts who want to assemble it. The beret costs $55, the men's blazers are $795 and women's skirts are $495. If the price is that high for an outsourced blazer, imagine the cost of one made in America.
Follow Hunter Schwarz (@hunterschwarz) on Twitter
Have a tip we should know? tips@mediaite.com