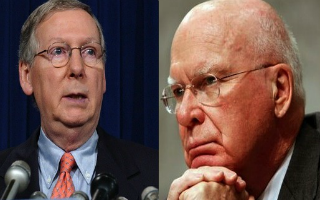 Roll Call reported today that Senate Minority Leader Mitch McConnell will begin to invoke the 'Thurmond Rule'. The congressional tradition, named for former Sen. Strom Thurmond, allows the minority party in the Senate to block all votes on a president's judicial nominees to the circuit courts in an election season. In keeping with precedent from previous election years, Sen. McConnell said that lower district court nominees will be considered normally until "at least" September.
But Sen. McConnell's colleagues across the aisle took issue with the timing of the decision. Sen. Patrick Leahy, Chair of the Senate Judiciary Committee, argued that the GOP should wait to use the rule and is simply continuing an obstructionist stance towards President Barack Obama's judicial appointments.
"It is hard to see how this new 'Thurmond Rule' shutdown is anything more than another name for the stalling tactics we have seen for months and years," Leahy said. He added that he "will continue to work with the Senate leadership to try to confirm as many of President Obama's qualified judicial nominees as possible to fill the many judicial vacancies that burden our courts and the American people across the country."
Senate GOP leaders pushed back against the claim that their actions were anything out of the ordinary. They cited Leahy and the Democrats' treatment of President George W. Bush's judicial nominees in advance of the 2004 election to argue that Democrats have engaged in similar behavior in the recent past.
"But Republicans counter that they are on the same pace of confirming circuit judges as Democrats were under Bush, noting that in 2004, the Senate confirmed five circuit court nominees, and in 2008, the chamber confirmed four, with the last confirmation coming in June in both years. Thus far this year, the Senate has confirmed five of Obama's nominees, including the confirmation of Andrew Hurwitz to the 9th Circuit Court of Appeals on Tuesday."
Sen. Leahy feels the number of judicial vacancies, which is higher than in previous election cycles, necessitates more sustained cooperation between the parties. Roll Call reports that "there are currently 75 judicial vacancies that need to be filled, which is significantly higher than in either 2004 or 2008." But with Sen. McConnell's announcement today, it seems as if Mr. Hurwitz's confirmation to the 9th Circuit post will be the last before November's presidential contest.
Have a tip we should know? tips@mediaite.com