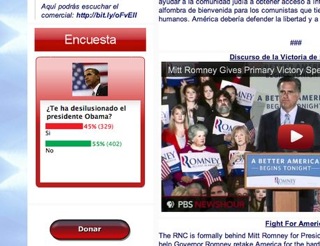 Mitt Romney's Latino outreach got some unhappy news from the RNC's Latino page through a Spanish-language poll clearly designed to get the opposite response it received. A poll asking in Spanish "Has President Obama disillusioned you?", as of post publishing time, has 57% of responses answering that no, President Obama has not disillusioned them– a sign that even those willing to venture to the Republican Latin American website aren't there because they support Romney.

RELATED: President Obama Tells Univision Romney Supports Racial Profiling
The website, RNCLatinos.com, has a poll somewhere down the simple interface asking the simple question. President Obama is winning the poll. As notes Benjy Sarlin at Talking Points Memo, that was the most unfortunate political point the site inadvertently made, but it also had some issues that made it appear hastily assembled:
In another broken feature, the site's info page, in English "Who Are We?", is left entirely blank.

There were also serious problems with a "blogs" section, a sparsely populated feed of user posts and press releases designed to showcase Latino Republican voices. The RNC took down dozens of posts Thursday evening, many of which were clearly written by spam bots and consisted of a combination of gibberish and advertising reminiscent of automated advertising feeds like the famous @Horse_ebooks. Portions remained cached via search engines, however.

"How To cease locks the loss In ladies – suggested Ways [sic]" read one typical post headline.
The website can always be fixed, and every campaign has technical problems, sometimes funny ones. But the poll is significant, because it places emphasis on opportunities Romney and the RNC could exploit against President Obama to their favor with Latin American voters that they appear to be completely ignoring.
The worst thing for Romney about this poll is not the unfortunate optics, or the fact that the difference in enthusiasm and support levels between the two candidates are so stark that they are manifest on RNC websites. The problem is that the fact that Latin Americans aren't, at least according to both this poll and many scientific ones, disillusioned with the President is a sign that Romney is marketing himself wrong, and not taking on the right line of attack– and that he didn't wait long enough for effective attacks against the President to set in before putting up the poll. President Obama has deported more people than his predecessor, George W. Bush, and compared to legendary Republicans like Ronald Reagan, has a particularly anti-illegal immigrant record. The statistics for Latin Americans for whom immigration is a major issue cannot be very happy with the President if they know the statistics– and increasingly, anchors like Jorge Ramos at Univisión have made a point to challenge the Obama campaign on that record.
And for the rest of the Latin American community for whom immigration isn't a priority, polls show the most important issue to Latinos is jobs and the economy, by a long shot. And there President Obama should be facing the same hurdles he is with white and black voters, if Romney were making the adequate effort to highlight things like last month's dismal jobs report and how that disproportionately affects Latino communities. Couple that with unfortunate little details like chronically out-of-touch campaign manager Jim Messina thinking chimichanga jokes are funny and the way President Obama pronounces things in Spanish at all, and the RNC should be able to muster enough clips to prove that the sort of Latino that is giving an RNC website a whirl isn't exactly happy with President Obama.
It shows the Romney campaign (and the RNC in general) have a long way to go, and with Romney and Reince Priebus spearheading the effort, it isn't difficult to see how the facts, so clearly not in President Obama's favor, can fall by the wayside to common misconceptions and intangible sentiments that Democrats have ridden to victories in many Latino communities for the past several years. With the Latino vote a pivotal one this year, Romney has his work cut out for him with this demographic.
Have a tip we should know? tips@mediaite.com