Congress Overrides Obama's Veto of Bill Allowing 9/11 Victims to Sue Foreign Nations (UPDATED)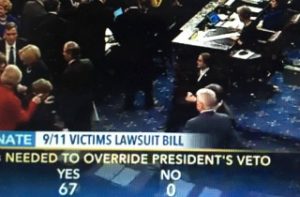 For the first time ever, the Senate voted to override President Obama on his decision to veto a bill allowing families of 9/11 victims to sue international governments for their alleged connections to the attacks.
Families of the victims have been increased pressure on the government recently, lobbying for the clearance to bring lawsuits against Saudi Arabia and other nations that allegedly supported the 9/11 terrorist hijackers. While the Saudi Arabian government has denied involvement in the attacks, 15 of the 19 plane hijackers were known to be Saudi citizens.
Obama said the bill would create major international complications and open the U.S. to countersuits when he vetoed it, but the Justice Against Sponsors of Terrorism Act (JASTA) has now received the 67 votes it needs to overturn. Ninty-seven senators in all voted to override, with only one (Harry Reid) voting no.
The bill will receive a vote from the House of Representatives later today, where indications suggest that it will reach a majority there as well.
"All of us have come together and agreed this is the appropriate and right thing to do," said Sen. John Cornyn (R-TX), who led the push for the bill. Huffington Post also noted that he said JASTA "will send a strong message to those who sponsor terrorist attacks on American soil, including foreign governments, will answer to those victims and pay for the death and destruction that they cause."
JASTA was formed to counteract the 1976 Foreign Sovereign Immunities Act, which protects non-designated state sponsors of terror from being sued. Congress has never been able to override a veto from Obama before, and the last time a veto was overturned was after George W. Bush's 2008 rejection of a bill that blocked a pay cut for Medicare doctors.
White House Press Secretary Josh Earnest had this response to the news.
Just in: WH @PressSec calls Senate override of POTUS #JASTA veto "single most embarrassing thing the senate has done since 1983"

— Jim Sciutto (@jimsciutto) September 28, 2016
UPDATE – 3:05 p.m. ET: The House of Representatives has also voted to override the veto, meaning the bill will become law.
Breaking News: The House has enough votes to override Obama's veto of 9/11 bill. This is the 1st successful veto override of his presidency. pic.twitter.com/WexHfk24AL

— Fox News (@FoxNews) September 28, 2016
[h/t Wall Street Journal]
[Image via screengrab]
— —
>> Follow Ken Meyer (@KenMeyer91) on Twitter
Have a tip we should know? tips@mediaite.com