Senator Bob Corker Didn't Read the GOP Tax Bill He's Voting For: 'I Never Saw the Text'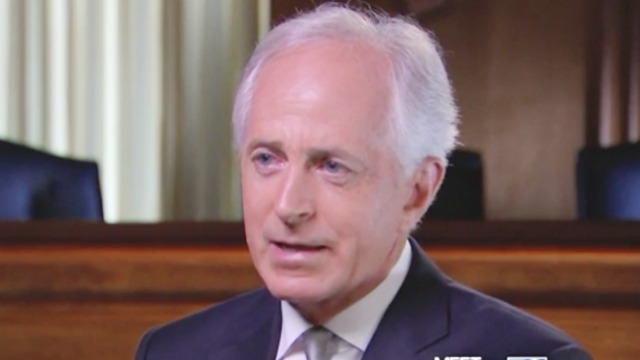 Senator Bob Corker of Tennessee admitted to not actually reading the GOP tax bill that he has agreed to vote for, saying "I had like a two-page summary I went through with leadership. I never saw the actual text."
The Republican senator made the admission in an interview with the International Business Times, during which he also pushed back against claims that he switched his vote from no to yes after a provision was put in that he especially will gain from financially. Prior to his change of heart, Corker was the only GOP senator voting no on the legislation.
Given Corker's loud and public opposition to President Donald Trump as well as his plan to retire at the end of his term, some expected the senator to maintain his opposition to the tax bill as he could afford to keep burning the bridges with fellow Republicans. However, he changed his mind on the proposed legislation on Friday and his new yes-vote could be what ultimately pushes the bill onto Trump's desk.
The International Business Times describes their bizarre interview with Corker in which he attacked a new provision in the bill that may enrich him personally, but later admitted to being ignorant on the issue:
"In a series of rapid-fire telephone interviews, Corker asked IBT for a description of the provision, and then criticized it. But minutes later, he called back to walk back that criticism, saying he wanted to further study the issue, and that it was more complex than he initially understood it to be. Despite potentially holding the fate of the entire tax bill in his hands, Corker told IBT that he has only read a short summary of the $1.4 trillion legislation."
The provision that could make Corker a richer man will decrease taxes on money that comes from real-estate LLCs. In other words, the GOP senator — who built his wealth by selling handling property — could make considerably more money with this added text.
However, rather than say this provision is what made him change his mind, Corker plead ignorance on the matter. "If I understand what [the provision] does, it sounds totally unnecessary and borderline ridiculous," he said.
Adding, "I don't really know what the provision does to be honest. I would need an accountant to explain it. I had no knowledge of this and would have no knowledge of it except for you guys are calling me about it. I have no idea whatsoever whether it impacts me or doesn't impact me."
[image via screengrab]
Follow the author on Twitter (@calebecarma).
Have a tip we should know? tips@mediaite.com