Senator Marco Rubio Calls Incomplete Leaked White House Immigration Plan 'Dead On Arrival'
Rubio Calls Incomplete Leaked White House Immigration Plan 'Dead On Arrival'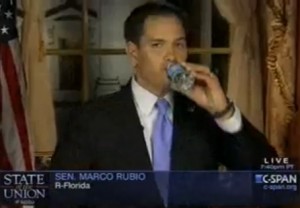 The optimism surrounding comprehensive immigration reform is being threatened by the leak of an incomplete draft of a White House immigration proposal that GOP hydrophile Sen. Marco Rubio (R-FL) is calling "dead on arrival," a quote that is dominating this weekend's coverage of the immigration debate. While Rubio's reaction was unproductive, the media's obsession with starting a food fight over the leaked draft is preventing them from even asking the most important questions: Why was this draft leaked, and why did Senator Rubio so eagerly take the bait?
Immediately following the 2012 election, in which the GOP presidential nominee* lost the Hispanic vote by record margins, Republicans experienced a mass Come To Jesus moment on the issue of immigration reform. Senator Marco Rubio has been key to the Republican face-saving effort, jumping on the comprehensive immigration reform bandwagon, while taking every available opportunity to trash the guy who built that bandwagon. This weekend was no exception, as Rubio seized on an anonymously-leaked draft to pick a fight with President Obama. From USA Today:
A draft of a White House immigration proposal obtained by USA TODAY would allow illegal immigrants to become legal permanent residents within eight years.

The plan also would provide for more security funding and require business owners to check the immigration status of new hires within four years. In addition, the nation's 11 million illegal immigrants could apply for a newly created "Lawful Prospective Immigrant" visa, under the draft bill being written by the White House.

…Last month, four Republican senators joined with four Democratic senators to announce their agreement on the general outlines of an immigration plan.

One of those senators, Sen. Marco Rubio, R-Fla., said Obama's bill repeats the failures of past legislation and would be "dead on arrival" in Congress.

"It fails to follow through on previously broken promises to secure our borders, (and) creates a special pathway that puts those who broke our immigration laws at an advantage over those who chose to do things the right way and come here legally," Rubio said. "It would actually make our immigration problems worse."

The draft was obtained from an Obama administration official who said it was being distributed to various agencies. The official requested anonymity because he was not authorized to release the proposal publicly.
The report clearly states that the draft is incomplete, and that its release was not authorized by the White House, yet Rubio elects to criticize it for not being complete, while Rep. Paul Ryan accused the President of "putting these details out" because he's "looking for a partisan advantage."
Now, they each could have kept things productive by pointing out that the leaked plan was incomplete, and that the plan was leaked, and not a sanctioned release, but that's what these guys do. The real problem is that the media, thus far, has shown little interest in determining the significance of the leak, instead electing to shop Rubio's quote to administration officials, in search of a food fight.
New White House Chief of Staff Denis McDonough went on all three Sunday shows Sunday morning, and while he took pains to point out that the draft was incomplete, and that the leak was  not sanctioned, he also seemed to apply pressure to Senate Republicans to get something done. "But (Rubio) says it's dead on arrival if it's proposed," McDonough told ABC News' Jon Karl. "Well, let's make sure that it doesn't have to be proposed.  Let's make sure that that group up there, the gang of eight, makes good progress on these efforts, as much as they say they want to, and that's exactly what we intend to do, to work with them."
It was a curious bit of lemonade-making from an official who, at the same time, was seeking to distance the White House from the leak. On the other hand, leaking such an incomplete proposal doesn't seem like the action of someone who wants to get things done on comprehensive immigration reform. Neither does jumping all over it.
Have a tip we should know? tips@mediaite.com