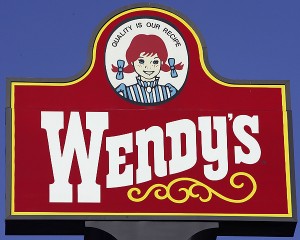 In case you were wondering how other fast food franchises would react to the president of Chick-fil-A's recent affirmation that he opposes gay marriage, so far they have been rather quiet. But a local Wendy's franchise owner decided to take matters into his own hands, with the outdoor signs at a number of Wendy's locations in North Carolina reading "We stand with Chick-fil-A." The official Wendy's Twitter feed has been vigorously pushing back against the criticism, and in the process riled up conservatives for boasting that they serve all customers, implying that Chick-fil-A does not.
RELATED: HatefulBrag: Redstate.com Boasts That Chick-Fil-A Will Cater Their Convention
According to the L.A. Times, Wendy's restaurants across North Carolina posted the offending signs, which led to MSNBC anchor Thomas Roberts tweeting "Et tu, Wendy?" earlier today. Wendy's responded immediately by tweeting "We're looking into this!"
For the past six hours, the Wendy's Twitter account has been caught in the middle of a public relations headache. After reassuring people they were looking into the situation, Wendy's finally explained what happened.
@thomasaroberts @rjasoncottrell @tlrd An independent franchisee posted the sign, which he's taken down.We proudly serve ALL customers!

— Wendy's (@Wendys) August 1, 2012
However, the sentence "We proudly serve ALL customers!" soon set off other Twitter users, who got riled up at Wendy's for implying that Chick-fil-A does not proudly serve all customers. Conservative pundit Dana Loesch tweeted at Wendy's that they should stop making that insinuation, pointing out that Chick-fil-A does not "discriminate in employment or service."
Wendy's replied by telling Loesch that wasn't what they meant, but after continuing to get hammered by Loesch and other Twitterers, Wendy's finally started tweeting back at people, "We're honored to serve every customer — we'd assume they are as well!"
Unfortunately, this was not enough to calm the storm, and Loesch tweeted the following back at Wendy's.
@wendys Just not sure why you have to quality it with "we assume." They've published such on their site. Can you acknowledge definitively?

— Dana Loesch (@DLoesch) August 1, 2012
Finally, Wendy's tweeted that it was not their implication at all, and apologized for the confusion.
And so begins the great Fast Food War of 2012.
h/t Business Insider
—–
Follow Josh Feldman on Twitter: @feldmaniac
Have a tip we should know? [email protected]
Josh Feldman - Senior Editor