Shameless Dan Abrams Seeks Dan Abrams' Help, Offers @danabrams Twitter Handle To 'Other' Dan Abrams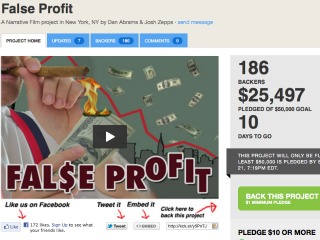 Editor's Note: While this is not really "Sponsored Content," Mediaite's Dan Abrams could get a twitter handle out of it. So it's "sponsored" by him… or by this other guy with his name.
It's not an easy way to go through life, sharing a name with a celebrity… or, in this case, at least a guy who has a name people seem to recognize sometimes.
I can't remember exactly when a member of my family first referred to the TV guy/Mediaite founder as the "Real" Dan Abrams, but it was no doubt during a formative time in my teenage years. It kills me to know that even my parents think of me as the "Other" Dan Abrams.
I'm sick of it.
I'm setting off to make my own mark on the world, so that I might be called Dan Abrams, the Funny One, or even Dan Abrams the Younger, or Better-Looking. I'm a comedy writer and producer, so I decided to seek my fame by making a movie. It's a comedy called Fal$e Profit. It's a hilarious comedy about the global financial crisis of 2008. Think Forrest Gump meets Wall Street. I'm currently raising money to make the movie on Kickstarter and shamelessly trying to get as much publicity as possible to get the movie made.
In the cast, we have a Tony award winner, multiple TV stars, and some of the best performers to come out of the Second City, including legendary director Jeff Michalski.
Not in the cast? Newsman Dan Abrams.
We've accomplished a lot so far, raising over half of our ambitious goal mostly from total strangers who saw coverage on CNBC and BoingBoing.net. But with time ticking down, I knew I needed to enlist help. Where did I turn?
You guessed it: pundit Dan Abrams.
I knew I could enlist Gen-Xer Dan Abrams' help because I had something he's wanted for years: the twitter handle @DanAbrams. He had asked for it a while back and I decided not to hand it over. After all I am @danabrams!
Using twitter, I struck a deal. If our movie was successfully funded, I would hand over @DanAbrams to lawyer Dan Abrams. Now his fans (or just those who want their insults directed at him to actually be seen by him) have two reasons to back the movie: 1) It's a funny, excellent movie with an outstanding cast and 2) to help him take his rightful place in the twitter pantheon of easy-to-remember handles.
So please, Mediaite readers, help Dan Abrams help Dan Abrams realize his dream by clicking here.
The Dan Abramses will be forever grateful.
-Dan Abrams
Have a tip we should know? tips@mediaite.com