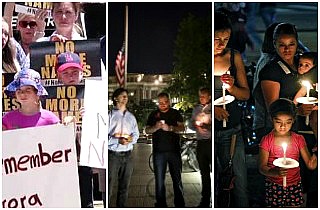 A not especially surprising report form the Associated Press on Tuesday morning reveals that Aaron Alexis, the gunman who killed 12 people at the Washington Navy Yard on Monday, was mentally ill. "Navy yard gunman was treated by US for serious mental illness, 'hearing voices,'" read an alert from the AP. One report revealed that Alexis was being treated since August by the Veterans Administration for his mental issues, but the VA did not force a review of his security clearance. Somehow, the former Navy reservist (who never deployed abroad) was treated for illness and had a firearm violation for which he was prosecuted but maintained his security clearance. The vetting failures and ignored red flags are starting to pile up.

But the mass casualty events that have become sadly familiar events over the last 16 months have one common thread: mental illness. Unsurprisingly, it takes a seriously disturbed person to engage in this type of behavior.
In the wake of the atrocity committed by James Holmes in a movie theater in Aurora, Colorado, in the summer of 2012, it was revealed that he had been seeing a psychiatrist who warned of his dangerous mental state.
Holmes' psychiatrist contacted police less than a month before he committed the horrific massacre of moviegoers and warned them of her patient's instability. Her warnings went unheeded.
Ryan Lanza's mental issues were well known before he attacked an elementary school in Newtown, Connecticut, killing educators and children alike. His younger brother told authorities that Lanza had symptoms associated with autism or Asperger syndrome. He added that Lanza had a "personality disorder." And ABC News report indicated that Lanza displayed "characteristics associated with obsessive-compulsive disorder."
There is no connection between autism and violence but, according to his brother, Lanza was not merely displaying the symptoms associated with mental illness. Some commentators defending the debate (or, more accurately, forceful and emotional advocacy) about gun control that followed the Newtown massacre went to great lengths to discount the notion that Lanza's mental instability led him to kill tens of children in cold blood.
It flies in the face of common sense to ignore the thread of mental illness that connects each of the mass casualty events that have rocked the country in the past year and a half. The social stigma associated with reporting individuals who are clear dangers to themselves and others is becoming a liability. It is time to have the national conversation about mental health and treatment. It may not make any political careers, like incessant campaigns against the National Rifle Association, but it might save lives.
[Photo via AP/Reuters ]
— —
> >Follow Noah Rothman (@NoahCRothman) on Twitter
Have a tip we should know? [email protected]