SHOCKER: Trump Campaign Manager Has Long History of Sexist, Abusive Behavior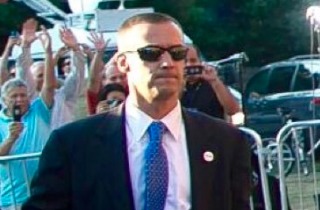 You'll be shocked no doubt to learn that Donald Trump campaign manager Corey Lewandowski has a long history of engaging in abusive and sexist behavior towards his co-workers and towards reporters.
Lewandowski, who recently became a major headache for his boss after reporter Michelle Fields filed assault charges against him, has apparently even faced opposition within the Trump campaign. "Donald Trump's staff and advisers have expressed concerns about campaign manager Corey Lewandowski's quick temper and heavy-handed leadership, and some even planned a coup against him last month," Politico reports.
Among the many incidents former co-workers and reporters tell Politico about:
"Lewandowski boasted about threatening to 'blow up' the car of the [Americans for Prosperity]'s chief financial officer…"
"On the sidelines of a meeting of the group's board in Manhattan, Lewandowski loudly berated the employee for challenging his authority, getting in her personal space and calling her a 'c—' in front of a group of AFP employees…"
"Reporters told POLITICO that Lewandowski has made sexually suggestive and at times vulgar comments to ― and about ― female journalists who have covered Trump's presidential bid. One reporter who was on the receiving end of such comments described them as 'completely inappropriate in a professional setting.'"
"…other reporters who have covered the Trump campaign described instances in which Lewandowski was rough with journalists, using his body to push reporters away from the candidate. They described the former New Hampshire police officer as occasionally acting more like a security guard than a political operative."
So yeah, guy sounds like a real charmer.
[h/t Politico]
[Image via screengrab]
——
>>Follow Alex Griswold (@HashtagGriswold) on Twitter
This is an opinion piece. The views expressed in this article are those of just the author.