Short Memory? Tucker Carlson Won 2008 Lawsuit To Get His Own Domain Name Back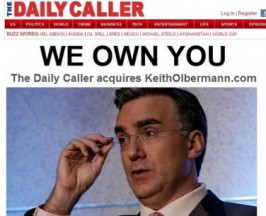 Tucker Carlson may be keeping the media world entertained with this morning's gleeful acquisition of KeithOlbermann.com, however it remains to be seen whether he has a legal leg to stand on. If history is any guide, all signs point to no. A fact Tucker Carlson is likely aware of since he himself won a domain court case back in 2008 to acquire rights to TuckerCarlson.com after he claimed common law rights to the name "Tucker Carlson."
Back in 2000 both Julia Roberts and the author Jeanette Winterson won rights to their domain names, in the first cases on the issue, under similar claims. Namely, if you are famous you can claim your name is your trademark even if it hasn't been registered thusly. From the website Domain Name Wire:
In general, celebrities can win UDRP decisions if they are reasonably well known and if the corresponding domain name is being used for profit (ala Jerry Seinfeld). If it is being used for criticism, such as in the case of Jerry Falwell and typo Fallwell.com, domain owners have prevailed in disputes. Also, politician's domain names are usually fair game if it is being used in a non-commercial manner.
In the case of Jerry Falwell the owners of Fallwell.com had intentionally misspelled Falwell's last night to catch other typo-prone Googlers (this is a common SEO tactic, by the way). One suspects Carlson is merely in this for both the publicity and the enjoyment of publicly needling Keith Olbermann, however if he has any long-term plans for a Keith site, perhaps he should consider acquiring KeithOlberman.com.
Have a tip we should know? tips@mediaite.com