Shuttering Of Gourmet Latest Reminder That Experience, Credentials Now Useless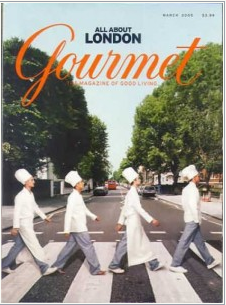 Gourmet is not going quietly into that good night. When Condé Nast shuttered Domino last year there was a audible outcry from some corners but nothing compared to the expressions of shock and dismay that have followed the demise of Gourmet this past Monday. Condé is hitting people where it really hurts: they have closed the New Yorker of food magazines! After years of being the sacred cow of the magazine world, Condé, it seems, has is one fell swoop demonstrated actually nothing is sacred.
The panic has apparently reached the op-ed pages of the New York Times, and it would seem a harsh reality is setting (crashing?) in. For all the things Condé should have done differently, and for all the charting of the brave new media world ahead that we immerse ours in, it's still not pleasant to hear from old school magazine folks who have quite suddenly discovered very little of what they valued about their field, including their own careers, actually carries much (or any!) currency any more. Actually, it's pretty awful. Writes Christopher Kimball, publisher of Cook's Illustrated:
The shuttering of Gourmet reminds us that in a click-or-die advertising marketplace, one ruled by a million instant pundits, where an anonymous Twitter comment might be seen to pack more resonance and useful content than an article that reflects a lifetime of experience, experts are not created from the top down but from the bottom up. They can no longer be coronated; their voices have to be deemed essential to the lives of their customers. That leaves, I think, little room for the thoughtful, considered editorial with which Gourmet delighted its readers for almost seven decades.

To survive, those of us who believe that inexperience rarely leads to wisdom need to swim against the tide, better define our brands, prove our worth, ask to be paid for what we do, and refuse to climb aboard this ship of fools, the one where everyone has an equal voice.
Welcome aboard, I guess.
Have a tip we should know? tips@mediaite.com