Jackass Vs Jackasses? Westboro Baptist Church Plans To Protest Ryan Dunn's Funeral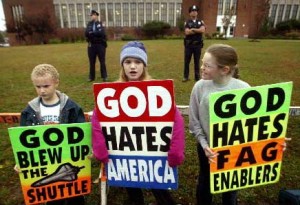 Apologies for the flippant tone in the headline. Obviously, by "jackasses" we actually meant "horrible, bigoted, wastes of space who disgrace themselves and our country in their flagrant attempts at self promotion." That wasn't very catchy though. As a general rule, Mediaite tries hard to ignore the jackasses that make up the Westboro Baptist Church (aka the hate mongers who protest funerals of American soldiers carrying "God Hates Fags" signs.) It is our belief that if everyone in the media ignored them, whatever power they have would likely be diminished. (The fact that I am originally from Kansas and am constantly embarrassed by their behavior while wearing KU apparel is probably also a factor.) However, this story is an exception for the following reasons — we think there is a decent chance for a delightful karmic comeuppance with their reported plans to attend the memorial service for Jackass star Ryan Dunn.
International Business Times reports:
The church has a history of protesting high-profile burials, often calling deaths a punishment from God. The group has been denounced as radical by many Christian organizations.

"WBC will picket any public memorial/funeral held for Dunn, warning all not to make a mock of sin, and to fear and obey God," the group said in a news release. It's headline states: "Ryan Dunn is in hell!"

DellaVechia, Reilly, Smith & Boyd Funeral Home, Inc said services and interment for Dunn will be private. A public memorial service will be announced at a later date.
While recent news of Dunn's blood alcohol level has created a bit of an Internet debate regarding his death, his friends and family see his passing as nothing less of a tragedy, regardless of the circumstances. And one can only imagine how Dunn's cohorts will receive the Westboro Baptist Church protestors. Some may call the potential conflict "jackass vs. jackass." This might be the news item featuring the hatemongers that's worth amplifying and following.
(H/T Reddit)
Have a tip we should know? tips@mediaite.com